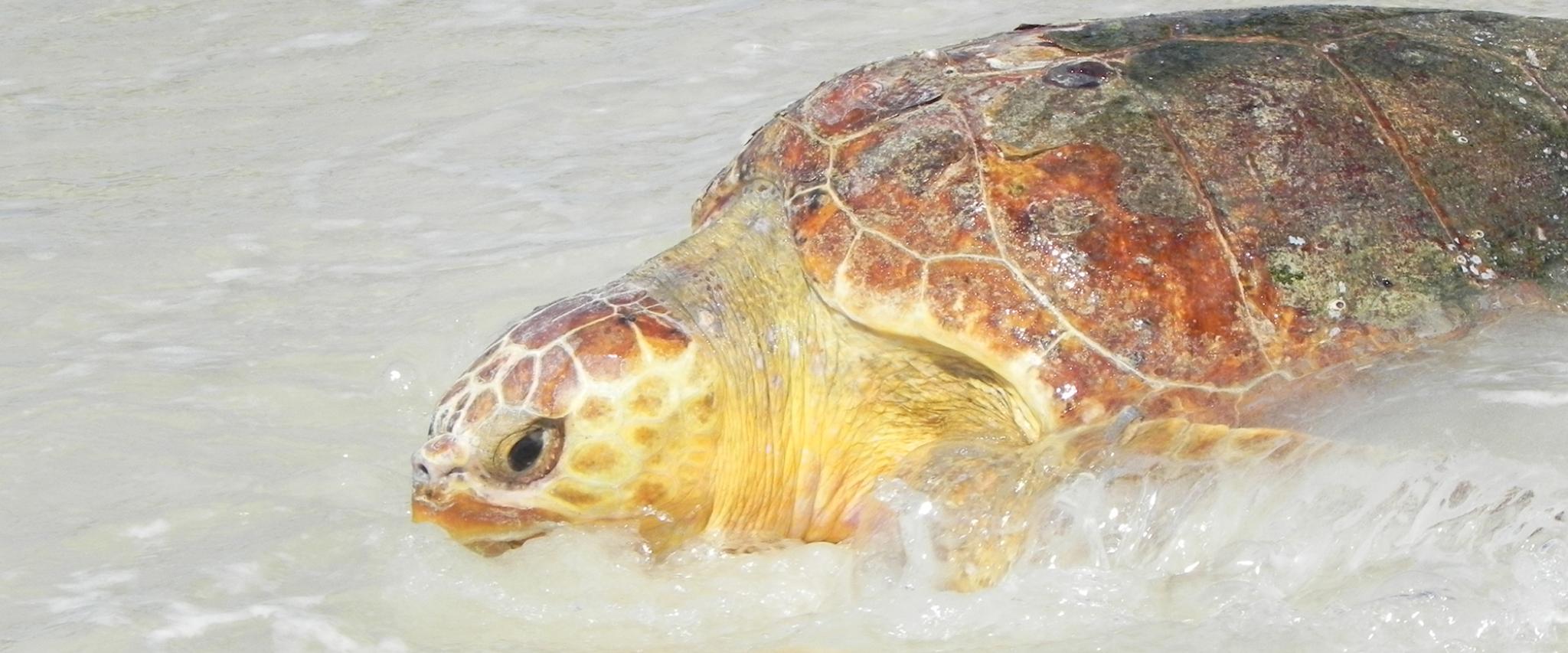 Spread the Word on World Sea Turtle Day
Gulf Shores and Orange Beach visitors are in a unique position to help the world's endangered sea turtles. 
June 16, 2019
June 16 is designated as World Sea Turtle Day. Sea turtle eggs and hatchlings are incredibly vulnerable to the environment. Several species native to coastal Alabama are on the endangered species list, including the Kemp's Ridley (pictured).
Everyone who visits Gulf Shores and Orange Beach has an impact on the diversity and well-being of our planet. By learning about the natural patterns that affect our beaches, you can help educate your friends and family about sustainable tourism.
Sea turtle populations have been positively affected by conservation efforts, and with that, we hope that future generations are able to experience the diversity of our coastal species. With more than five million annual visitors to Gulf Shores and Orange Beach, every action counts. 
Learn about the challenges we're working to overcome on the Alabama Gulf Coast.
Lighting is still an issue with disorienting sea turtles. Amber lighting is sea turtle friendly, and you may want to keep this in mind when using flashlights on the beach.
Holes are hazards on the beach. It is possible for sea turtles to get stuck in these areas, so return the sand to any holes that you dig, large or small, and please fill in any holes you see.
Stash your trash. Items large and small can be potential hazards when they don't make it into the proper disposal bins. There are recycling and garbage bins located onsite at each public beach for you to utilize. You can also find monofilament recycling line stations at many of the public boat ramps in town.
Reduce single-use plastics. By reducing our dependency on single-use plastics, we start a conversation about plastic pollution, which can affect our culture, our waterways, and our health. Start small. Start with just saying no one time. Every action counts!
Ready to learn more? Follow along with the Leave Only Footprints campaign while you're here to learn about specific regulations for what items, structures, and equipment are not allowed on the beach. Also, if you visit Gulf Shores or Orange Beach from July through October, you may learn about the opportunity to witness a sea turtle boil or hatching. Follow along with Alabama's sea turtle conservation program, Share the Beach for more information!