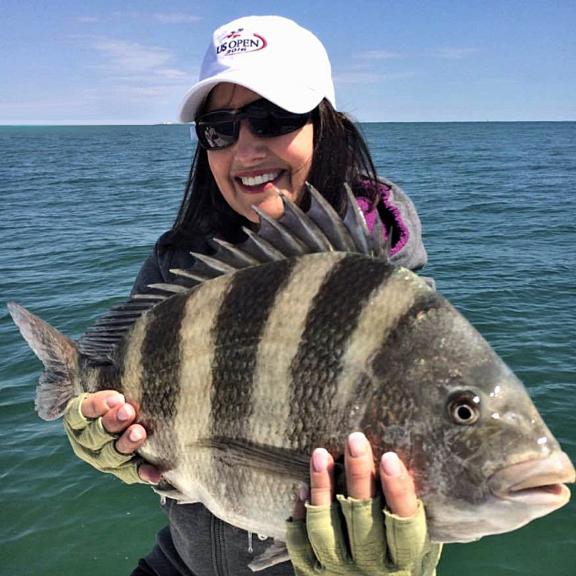 What's Biting
The Gulf Coast's Premier Bait Stealing Species
August 5, 2020
Thank goodness for a stretch of beautiful, sunny weather. Not only did the abundant February and early March rainfall muddy up the inshore waters, the cooler water temperatures delayed the start of a significant sheepshead bite.
However, that is over, and it's full speed ahead on fishing for sheepshead, which has been an underutilized species for many years.
Sheepshead move to nearshore waters during the early spring to spawn. Before the spawn, the fish hang around inshore structure and feed on barnacles and other crustaceans. The habitat where sheepshead are most likely to be found include rock and concrete jetties, pilings, petroleum platforms, bridges and oyster reefs.
Sheepshead find live shrimp and fiddler crabs hard to resist this time of year. Fortunately, the bait shops on the Alabama coast have begun stocking the crabs and shrimp, a staple of the bait industry. However, that doesn't mean the bait shop won't be out of bait because there are more inshore anglers than ever along the Gulf Coast. Best call to find out what kind of bait they have, but don't hesitate to use fresh-dead shrimp if they don't have live. If all else fails, buy some oysters and cut them into pieces to use for bait. But don't be surprised when you reel in a bare hook. Sheepshead are known as the premier bait-stealing species on the Gulf Coast.
The thing about sheepshead fishing is if you don't get a bite within a couple of minutes, you might as well reel it in because you are fishing a bare hook. If a sheepshead is anywhere around, it's going to find that bait quickly. By the way, just like almost every saltwater species, sheepshead prefer the current to be moving. If you happen to fishing on a neap tide with very little tidal action, the bite can almost be undetectable. If you even think you might have a nibble, set the hook. As I tell people who fish with me, hooksets are free.
Because sheepshead live around structure with many sharp edges always carry more sinkers, leaders and hooks than you think you need, because losing tackle is just part of sheepshead fishing. Try 10- or 12-pound line at the start of the day, but if the fish keep cutting you off on the barnacles, go to 15-pound-test. Fluorocarbon leaders are also more durable than monofilament.
If you look a sheepshead in the mouth, you know where it got its name. It has chompers that are used to crush barnacles and a tough, bony mouth to finish the job. Always use a strong hook in No. 2 to 1/0 sizes. A rod with a fast tip will keep from ripping the hook out of fish's mouth, but the rod must have backbone to be able to keep the fish out of the barnacle-encrusted structure.
A sheepshead's big head means the fish needs to be fairly large to yield decent-sized filets. Alabama's daily bag limit on sheepshead is 10 fish per person with a 12-inch minimum size. My rule is to not keep anything smaller than 15 inches.
I recently treated my extended family to a fish fry with sheepshead filets that were lightly salted, dredged in fish fry mix and dropped in 350-degree peanut oil. The talking ceased when the fish was served, and the table was soon surrounded by smiling faces.