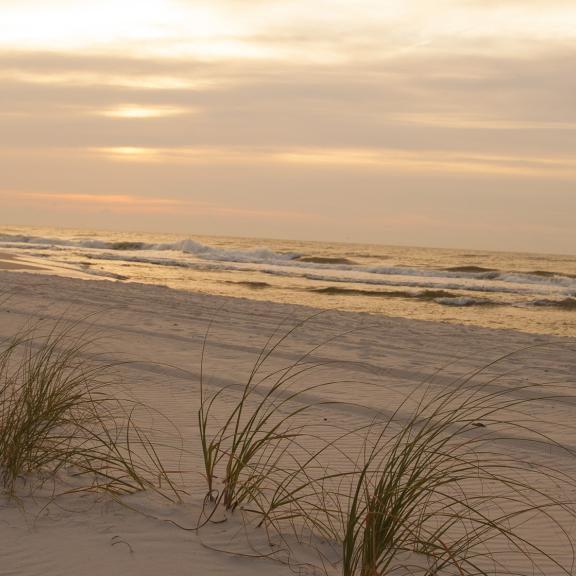 Your Meeting Attendees Can Dip Their Toes in the Sand All Year!
Gulf Shores and Orange Beach are among the most beautiful beaches in the world.
September 15, 2019
When you think of these beaches you may immediately think of summer, but hosting a meeting here during fall and winter can be wonderful because:
Smaller crowds. Since school is back in session and the summer rush is over, you will experience less traffic on the roadways and beaches, and shorter wait times at restaurants. You won't have trouble finding a place to lay your beach blanket, and watching the sunset will be even more peaceful when you aren't sharing the beach with hundreds of other people.
Cooler weather. Even during the winter months, the Gulf Coast rarely reaches freezing temperatures. In fact, the average temperature for November in Gulf Shores is 71 degrees! Although you may not want to swim, it's plenty warm enough to enjoy a full day at the beach or a comfortable sunrise or sunset stroll.
Special events. Several annual events and festivals take place during fall and winter, including the National Shrimp Festival, the Oyster Cook-off and Craft Beer Weekend at The Hangout and the Orange Beach Seafood Festival and Car Show. Schedule your conference during these events to increase attendance and provide extra opportunities for recreation and bonding.
Off-peak rates. Many vacation rental companies offer discounted rates during the fall and winter seasons, allowing an amazing workcation for your team at a great deal! Activities off the beach. The off-season here is packed with fun! Plan a round of golf at our championship golf courses, hike any of the numerous nature trails across the island, or brush up on history at local museums and forts.
Contact our sales team to start planning a fall or winter retreat with the perfect balance of serious focus, team-building opportunities and downtime recreation.