Summertide Theatre presents: Smoke on the Mountain Homecoming
See below for times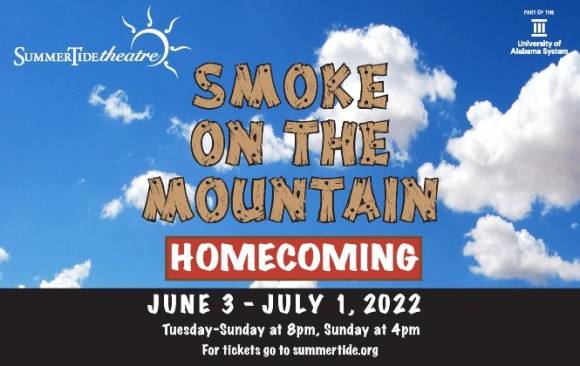 We anticipate this event occurring around these estimated dates. Once we learn the confirmed dates, we will update this page. Meanwhile, read about last year's event details below.
Tuesday - Saturday performances begin at 8:00 PM
Sunday performances begin at 4:00 PM
The gospel‑singing Sanders Family is back together! At Mount Pleasant Baptist Church, Reverend Mervin Oglethorpe is giving his last service. He's been called to preach in Texas, and he's already bought a ten‑gallon hat and is preparing to ride into the sunset with his wife, June, who is eight months pregnant. Join the Sanders Family as they send Mervin and June off in style, with hilarious and touching stories and twenty‑five toe‑tapping Bluegrass Gospel favorites.
"This heart-warming story, suitable for all ages, can be enjoyed regardless of whether or not one experienced the original and will feature a talented cast, as well as an abundance of laughter, joy and faith," - Stacy Alley, Director.
Admission:
$25 Group Offer For groups of 10 or more, tickets are $20 per person and can be reserved before April 15 by calling 205-348-7351. Ticket sales begin 4/15
See All Dates

06/02/2023

06/03/2023

06/04/2023

06/05/2023

06/06/2023

06/07/2023

06/08/2023

06/09/2023

06/10/2023

06/11/2023

06/12/2023

06/13/2023

06/14/2023

06/15/2023

06/16/2023

06/17/2023

06/18/2023

06/19/2023

06/20/2023

06/21/2023

06/22/2023

06/23/2023

06/24/2023

06/25/2023

06/26/2023

06/27/2023

06/28/2023

06/29/2023

06/30/2023

07/01/2023