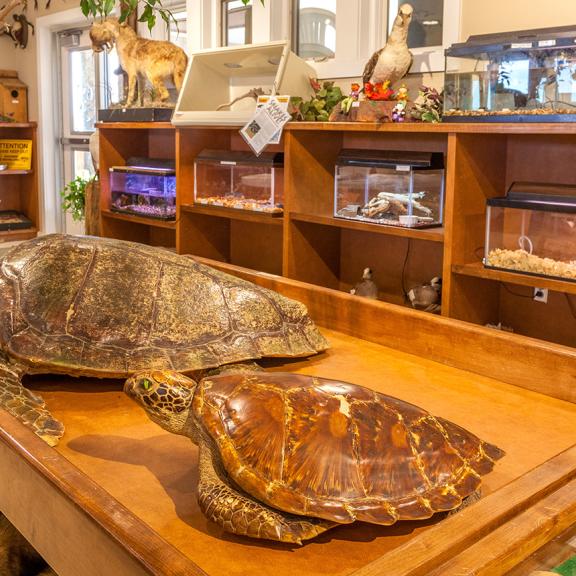 5 Fun Spots to Learn About Coastal Wildlife and Marine Life
Coastal communities have many things in common. Water, of course, is a given. But other things such as nature, water recreation, food and wildlife all come to mind as well.
September 13, 2018
And while vacationers might not always come in contact with wildlife, it sure is fun to learn about . . . and even better when you spot something in the wild that you're already familiar with.
1.) The Alabama Gulf Coast Zoo offers many "encounters" to become educated about different types of animals - some you might spot locally and some you might not. Either way, families can delight in the unique opportunities for close-up meetings with kangaroos, lemurs, sloths and more in a safe and nurturing environment.
2.) Alligator Alley in nearby Summerdale is perfect for learning about, well, alligators! Take a nature walk on the elevated boardwalk where more than 450 alligators (from hatchlings to mature adults) can be seen in their natural habitat. Visitors will also enjoy seeing other natural species such as turtles, ospreys, owls and bull frogs. There are opportunities inside the gator station to actually hold baby gators and learn all about these fabulous creatures.
3.) Perhaps one of the best resources available on the Alabama Gulf Coast for learning about local wildlife is the Bon Secour National Wildlife Refuge. The name Bon Secour is French for safe harbor…fitting for this sanctuary of sorts. Scour their website for facts and trivia on wildlife living or migrating to the area, or plan a visit for some hands-on learning. During your Gulf Shores vacation, be sure to stop by the refuge office and talk to their knowledgeable staff about the area's plants and wildlife. Bon Secour is home to more than 360 species of birds, and it serves as a refuge for endangered or threatened species of wildlife. Some of Alabama's last remaining undisturbed coastal barrier habitat is encompassed within Bon Secour National Wildlife Refuge, and sea turtles find it nest-worthy year after year. This educational resource is a great wealth of knowledge for those looking to learn more about coastal wildlife and habitat.
4.) The Gulf State Park Nature Center provides opportunities to learn about plants and animals native to this region of Alabama. Choose guided nature walks, beach walks, pier walks and more. Children and adults are welcome to tag along for these discovery sessions that lead to a better understanding of coastal wildlife and their ties to nature.
5.) Another fun way to learn about coastal wildlife is through WildNative Tours. The grassy, swampy lands of the Mobile-Tensaw Delta become the classroom for these experiences that teach about everything from alligators to dolphins and bald eagles to pelicans. Choose a boat or a kayak as your "desk" for these trips suitable for all ages.
Visitors can benefit greatly from these local resources and opportunities, but there are some simple ways to learn more about Alabama's coastal wildlife and marine life, as well. Grab a fishing pole and spend the day on a pier close to some local fishermen. They'll be happy to tell you what's in the water and how to catch it!