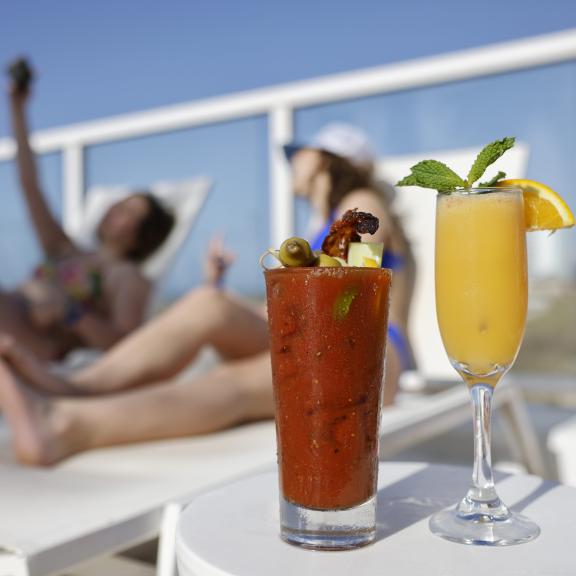 Girlfriends Getaway
In Gulf Shores and Orange Beach 
Getting away on a vacation with your girlfriends can have a positive effect on your everyday life.
As multitaskers, many women stay busy and try to "do it all" in their professional lives. When it gets overwhelming, that's the perfect time to call some friends and talk about a destination like Gulf Shores and Orange Beach for your next girls weekend getaway. Whether you're looking for a weekend getaway from the working world or you're celebrating a special bachelorette, Gulf Shores and Orange Beach have everything you need for a successful girls trip.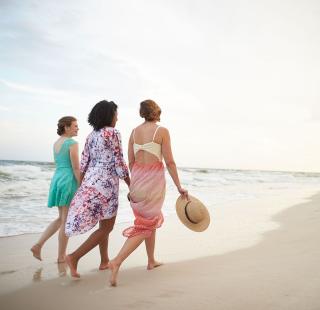 Nothing quite compares to a beach getaway with your closest girlfriends. There is something enchanting and relaxing about expanses of turquoise-blue waters and stretches of sugar-white sand on Alabama's Gulf Coast. While there are many well-known beach trip spots, Gulf Shores and Orange Beach meet your needs and offer something unique, off the beaten path.
Alabama's Gulf Coast provides pristine beauty and an ideal mix of nature and attractions. You can keep things low-key and relax on a quiet beach, or have a jam-packed trip filled with nature hikes, shopping, dining, and day spas. No matter what your focus is during your girls getaway, you can do it all with the soothing surrounding of white sand beaches and clear water
WHERE TO STAY DURING YOUR GIRLFRIENDS GETAWAY
In Gulf Shores & Orange Beach 
Gulf Shores and Orange Beach offer many different accommodations for large groups. From hotels to houses and beach condos, we have more than enough lodging to accommodate your bachelorette party or girls weekend trip. Depending on the number of girlfriends in your party, you can decide whether you each want a private space or if you prefer to share rooms. Some of your best lodging options include:
Hotels and Resorts - Make planning easy when you book hotels in Gulf Shores and Orange Beach. We even have beach resorts that are all-inclusive, featuring on-site dining, valet parking, entertainment, and other great amenities.

Beach Condos – Find a trendy beachside property in your preferred part of town. Many condos are pet-friendly and feature pools, kitchens, tennis courts, beach access, and more.

Beach houses & vacation homes – If privacy and space is your priority, renting a house is the way to go. Gulf Shores and Orange Beach have several property management companies as well as individual homeowners that rent out houses of all sizes.
WHAT TO DO ON A GIRLFRIENDS GETAWAY
Gulf Shores & Orange Beach
While the main highlight in Gulf Shores and Orange Beach is the white-sand beaches and gorgeous Gulf waters, you have a variety of ways to fill your time. If your goal is to be more adventurous, try boat tours, water activities, diving, or even kayaking excursions. Easily find a rental or hire an outfitter to be your guide.
Cruising is an incredible way to spend a day or evening. While smaller boat tours offer extra excitement, cruising is all about kicking back, relaxing, and taking in the sights. Gulf Shores has several different types of cruises, from dinner and sunset to dolphin and party boat charters (perfect for bachelorette parties!).
If you just want to relax on the beach, you can spend the day with a picnic and the latest beach read or simply walk the shoreline looking for wildlife and the perfect picture spot to remember your time together. Girlfriends in Gulf Shores and Orange Beach also love booking spa days and exploring the specialty boutiques before indulging in the local cuisine and famous Gulf Coast restaurants.
Get Inspired for Your
Girlfriends Getaway