"This is a light, non-tomatoey soup. It doesn't sit so heavy in your belly. It can be made once, add more chicken broth the next day and eat again! Even on the third day, it's delicious! Just add more chicken broth and another can of beans. My two teenage grandchildren love it. The oldest one said, "I don't care how gross it looks, it's good!" and he ate five bowlfuls! Just try it one time and you will be hooked on this soup."
If you want to try this delish soup before you make it at home, visit Fish River Grill in Gulf Shores. Order a bowl or enjoy a complimentary sample size before your meal. It may be one of the most unique soups you order during your vacation in Gulf Shores and Orange Beach. It's the perfect fix for a rainy beach day, too!
Simply Can't Wait? Try Swamp Soup
Recipe Courtesy of Judy Roberts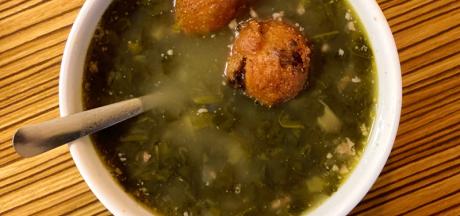 Ingredients
2 (10 oz. pkg.) fresh, chopped turnip greens, or: one 27 oz. can "Margaret Holmes" turnip greens
1 small onion, chopped very fine
1 pkg. DRY Knorr Vegetable Soup mix
1 15 oz. can northern beans
1 15 oz. can navy beans
5 cups low sodium chicken broth (the boxed kind)
1 lb. pkg. smoked sausage, sliced thin and cut into quarters (I use polish kielbasa) it tasted better if you brown in a skillet - but you don't have to.
1 teaspoon Tabasco sauce
1 teaspoon garlic powder
pepper to taste
(Do NOT add salt)
Directions
Cook onions in a non-stick 5 pt. pot until transparent and tender. Add the quartered polish sausage to the pan and cook just a little bit, stirring occasionally. Add the rest of the ingredients, stir and bring to a boil-reduce heat & simmer until heated through and through and the green peas in the dry Knorr you added are done.
Substituting turkey or chicken sausage works fine. With the low sodium chicken broth and turkey or chicken sausage - it's healthy and good!