Mark your calendars for the 50th Annual Shrimp Festival on October 12-15 in Gulf Shores. Gates will open at 2 pm, Thursday, October 12. This food-focused festival features 50 local and regional vendors serving crab cakes, conch fritters, lobster, Cajun pistols and many other types of delicious food. While here, you can enjoy fresh Gulf shrimp boiled, fried, steamed, and just about any other way you can imagine. The event's highlight is, of course, the shrimp, but there is much more to enjoy!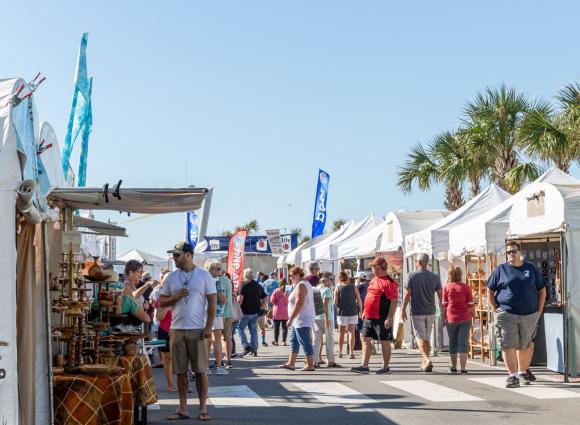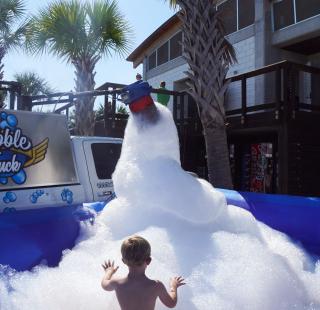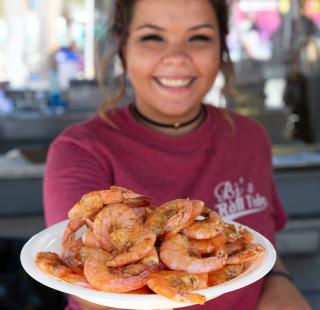 Live Music
Get ready to dance in the sand to more than 100 hours of musical entertainment featuring a lineup of national, regional, and local acts. There will be musical acts to please all ears, with two stages offering non-stop music for four days. You'll tap your feet to blues, Motown, classic rock, jazz, country, and even more styles of music. 
Art Booths & Children's Activities
Art lovers can peruse arts and crafts at more than 150 booths. From paintings and pottery to jewelry, you'll discover fine art and unique crafts from local creators. It's a great place to score a gift for that hard-to-buy-for person in your life or treat yourself to something special. Kids can participate in a myriad of activities in the Children's Activity Village, including face-painting, a bubble truck, airbrush tattoos, and much more. 
Sand Sculpture Contest
Don't forget to enter the annual sand sculpture contest with your family! On Saturday, teams will head to the sand to see who can create the best sand sculpture. The winners of each category will win cash prizes and, of course, bragging rights!
5k and 10k Races
Lace up your running shoes and plan on joining runners and walkers at the starting line of the two races. Participants can enter the 10K and 5K races to help work off some of the great food at the festival. All net proceeds of the Run will be donated to Coastal Baldwin Education Enrichment, benefiting the local Gulf Shores and Orange Beach public schools.
For further questions and information on becoming a vendor during the festival, please visit the Shrimp Fest site.
Road Closures & Detours
The West Gulf Place parking lot will close to the public beginning Monday, October 9, to be utilized for tent and food vendor setup.
Highway 59 will be closed at 1st Avenue beginning Tuesday, October 10.
Highway 182 (Gulf Beach Boulevard) will be closed to the public between East 1st Street and West 3rd Street, in front of Gulf Place Public Beach, beginning Tuesday, October 10.
East Gulf Place (Resident Parking Lot) will be closed to the public beginning Thursday, October 12, and will be utilized as vendor parking and shuttle location.
Eastbound traffic toward Orange Beach should consider using Highway 180 East or State Park Road Highway 135 as alternate routes.
Shuttle Information
There will be a Park and Ride Shuttle Service available to those attending the Shrimp Festival. Transportation Wristbands for the shuttle will be available for $5.00 per day. Wristbands entitle the holder to unlimited rides to and from the festival grounds on the day of purchase. Per state law, children under the age of 5 are not allowed on the shuttle buses. All proceeds from the shuttle service go to the Gulf Shores City Schools' Dolphin Athletic Club and Band Booster Club.
Shuttle Schedule
Thursday, October 12: 1:30 pm - 10:15 pm
Friday, October 13: 9:45 am - 10:15 pm
Saturday, October 14: 9:45 am - 10:15 pm
Sunday, October 15: 9:45 am - 5:15 pm
Shuttle Stops/Parking Locations
Pelican Place at Craft Farms Shopping Center in Gulf Shores
Erie H. Meyer Civic Center in Gulf Shores – 1930 W 2nd Street, Gulf Shores
Waves Grocery in Gulf Shores – 1154 West Beach Blvd, Gulf Shores
Rouses Grocery in Orange Beach - 25405 Perdido Beach Blvd, Orange Beach
Lake Shelby in Gulf State Park: 20115 AL-135, Gulf Shores
The drop-off location for the East Shuttle will be at the East Gulf Place Public Beach Access. The drop-off location for the North/West Shuttle will be at the corner of West 2nd Street and West Beach Boulevard.
The Annual Shrimp Festival in Gulf Shores Alabama
Enjoy fresh seafood straight from the Gulf of Mexico at the annual Shrimp Festival in Gulf Shores, Alabama. The National Shrimp Festival celebrates the very best of coastal Alabama with fresh and delicious seafood, local art, live music, and more.
National Annual Shrimp Festival, Gulf Shores
Savor fresh from the Gulf seafood at the Annual National Shrimp Festival during this four-day event in October that attracts over 300,000 people. The festival plays host to musical entertainment featuring a lineup of national, regional and local acts.
Beers, Bites and Beautiful Art: Coastal Crafters of Alabama's Beaches
Sunset Cruises in Gulf Shores & Orange Beach
Orange Beach Festival of Arts
Couple's Getaway Activities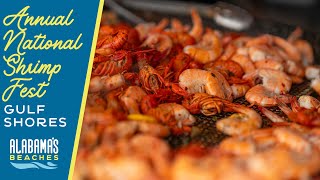 The Annual Shrimp Festival in Gulf Shores Alabama
National Annual Shrimp Festival, Gulf Shores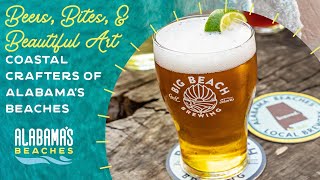 Beers, Bites and Beautiful Art: Coastal Crafters of Alabama's Beaches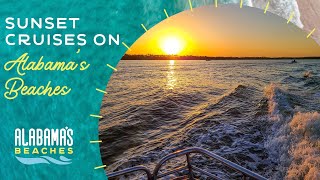 Sunset Cruises in Gulf Shores & Orange Beach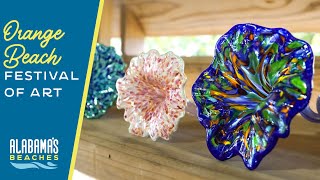 Orange Beach Festival of Arts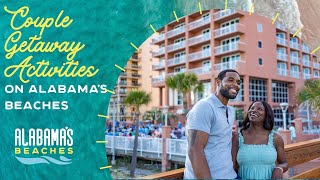 Couple's Getaway Activities