Make Plans For the Spring Bird Banding
March 7, 2013
The birds are back! Visit Gulf Shores for an up-close look into the life of migratory birds as they make their stop on the Gulf Coast April 6 to 18. The Fort Morgan Bird Banding Station is located at Historic Fort Morgan and is operational for two weeks
each spring and fall.
Gulf Shores is the first landfall and the last departure point for thousands of migrating birds. At Fort Morgan, there are excellent opportunities to monitor population levels and the general condition of migrant birds, as well as gaining important insights into the effects of weather on migration. Banding sessions at the Fort Morgan bird banding station are open to everyone.
With the help of a crew of trained and dedicated volunteers, thousands of Neo-tropical migrant birds are banded annually, representing dozens of species. Through their dedicated observation, the group has developed identification guidelines for several species of hummingbirds including Ruby-throated, Allen's, Calliope, Black chinned and Rufous, among others.
The bird banding station opens before dawn each day and operations usually cease between 3 and 5 p.m, but are subject to the flow of birds. Bring a lawn chair and binoculars, but please leave your pets at home.
While you're visiting Gulf Shores & Orange Beach for the annual bird banding, check out some of the other nature tourism opportunities along the Gulf Coast. Both the Bon Secour National Wildlife Refuge and the Gulf State Park boasts miles of nature trails for hiking or biking. Whether you are here a week or a weekend, there are plenty of outdoor activities for nature lovers.
[caption id="attachment_817" align="aligncenter" width="300"]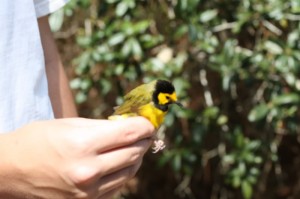 The Spring Bird Banding at Fort Morgan is slated April 6-18, 2013.[/caption]