Spring for Charter Fishing on the Gulf Coast
April 3, 2013
If you ever go charter fishing in Gulf Shores & Orange Beach, we will have you hook, line and sinker for the rest of your life! The coastline of Alabama is home to one of the largest artificial reefs in the world, as well as some of the richest waters
for fishing. All totaled,  Alabama's coastline boasts more than 17,000 artificial reefs, and that makes for some great fishing!
Catch your fill of red snapper, grouper, Spanish and king mackerel, redfish and more when you drop your line on the Gulf Coast. Whether you choose an inshore or nearshore charter or a deep sea charter fishing trip, you'll be thrilled with the catch.
Spring is a great time of year to introduce children to charter fishing. The weather is great and temperatures are just right for a fun day on the water. A four- or six-hour trip offers a great introduction to charter fishing for first timers, especially young children. Remember a few essentials including:
Cooler with drinks and snacks
Hat
Sunglasses
Sunscreen
Dramamine or other motion-sickness medicine
A camera to capture all the great memories of the day's adventure!
For the latest in spring charter fishing, check out the What's Biting report. We will see you soon for some fun Orange Beach charter fishing!
[caption id="attachment_832" align="aligncenter" width="300"]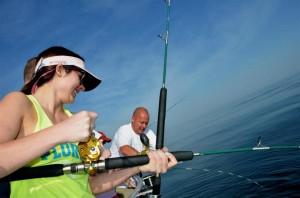 Reeling in the big catch with Distraction Charters in Orange Beach, Alabama.[/caption]