Tips for a Great Fishing Experience
Part Of The What's Biting Series
March 19, 2014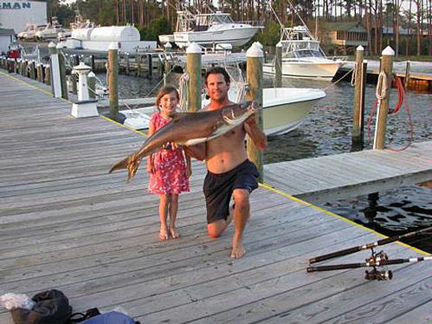 To improve your fishing experience, we always like to share tips on how to help you find fish and catch more of them. Some tips are based on tides and techniques, but nothing beats local knowledge and knowing where to get it.
Our area has an abundance of great local tackle stores willing to share information with both locals and visitors. "Sharing and showing customers where and how to be successful is a big part of our business," said Tom Pace of J & M Tackle in Orange Beach. "All of us are in this business, because we love fishing, and if we aren't fishing, we love talking about fishing. It may just be a simple conversation about what's biting, but if someone needs a more detailed hands-on demonstration to learn something, that's why we are here."
If you are worried about asking a silly question, you shouldn't be. Your questions have been asked before and will be asked again. All of us had to learn from someone more experienced than us. If you are primarily focused on inshore fishing, the three significant questions I would ask are where, how, and when. Where are the fish you are targeting located during this time of the year (the pass, along the beach, the rivers or bays)? How do I go about catching them (live or artificial bait)? And lastly, when? Much of our inshore fishing revolves around tides here on the Gulf Coast, so ask if the bite is better on a rising or falling tide. The more you engage with our local experts, the more they will share with you. If you get some good advice that helps you catch fish, go back and tell them about your trip. Fishing reports are always appreciated, and you can help them to help others.
If you are new to fishing our area, another way to gain valuable insight is to hire a local guide early during your stay. "Fishing with a guide helps you to get a feel for the area and the fish," according to David Brown of Brown's Inshore Guide Service. "Using a local guide helps you not only have a great trip that day, but you can use what you learned and apply it to the rest of your stay." Whenever I travel to a new area to fish, I have always found the money I spend by hiring a professional guide to be a wise investment that provides a great return.
Our guides and tackle shop workers want you to catch fish and make great memories while you are here, and they also want to help. All you need to do is ask.