Get Ready for 2014 Hangout Music Fest with Condo Specials and Kickoff Party
March 31, 2014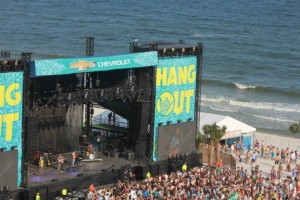 Combine some of the best musical groups with white-sand beaches, sparkling Gulf waters and warm temperatures and what do you get? One of the premier music events in the country! The Hangout Music Fest returns May 16 to 18 with a lineup that includes
The Black Keys, a reunited Outkast and The Killers.
New this year is a sixth stage, a redesigned Alabama Gulf Seafood Outdoor Courtyard and a fashion village of pop-up boutiques where fans can shop for dresses, bathing suits, sunglasses and the like. A beachside wedding chapel is also new this year for music fans who feel the urge to make their relationships more permanent while being serenaded by great musicians.
This year's list of entertainers also includes Childish Gambino, Wiz Khalifa, Zedd, The Avett Brothers, Jack Johnson, Modest House, Queens of the Stone Age, Pretty Lights, The Flaming Lips and many others.
The annual Thursday Kickoff Party for Hangout Music Fest is May 15 and features Girl Talk, Iron and Wine, Wolfmother, Danny Brown, Dumpstaphunk, Bonobo (performing a DJ Set) and Bombay Bicycle Club. Doors for the Thursday Kickoff Party open at 4 p.m. Tickets for the party are $40. Fans who have already purchased three-day tickets may purchase kickoff tickets for $30.
Need a place to stay while you're here for the annual festival? Some Gulf Shores condos and Orange Beach hotels are offering specials during the weekend-long event. Come for the Hangout Music Festival and experience a whole new state of musical awakening on Alabama's white-sand beaches.