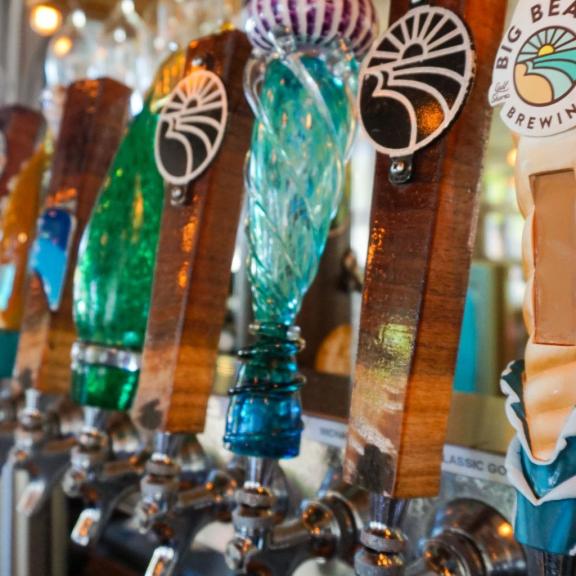 Guys' Beach Trip
In Gulf Shores & Orange Beach
May 7, 2023
A few days of outdoor adventures, fantastic drinks, and hanging out with your best buddies on the beach. If that sounds like an excellent way to spend a few days, Gulf Shores and Orange Beach is the place for you and the boys. Whether you're planning a bachelor party or a guys' weekend, we have the perfect activities for you and your crew.
2. Charter Fishing Trip
Orange Beach is home to one of the largest fishing charter fleets on the Gulf of Mexico, so the angling opportunities are endless. Plan an all-day adventure and book a six- or eight-hour charter fishing trip. You'll head for blue water 30 miles or more out in the Gulf of Mexico and have the chance to reel in some of the best gamefish in the area. Your boat will provide rods, reels, and bait. Bring a cooler with plenty of water and snacks, sunscreen, sunglasses, and a hat. After you're back on land, take your haul to one of the several "cook your catch" restaurants that will prepare your fish for you.
4. Axe Throwing Anger Management
Test your aiming skills and channel your inner Viking at The Axe Hole at The Wharf. Let off a little steam and enjoy a half hour or full hour of axe throwing. You'll get the lowdown on safe and best practices before you start throwing at the wooden targets. You can also play a game or two of cornhole while here. Your arms may be a little sore afterward, but you'll definitely have a lot of fun.
6. Hot Sauce Tasting
Turn the heat up on your guys' weekend by sampling the fiery creations at the Pepper Palace. This hot shop takes spice to the next level with award-winning hot sauces, salsas, seasonings, and snacks. It has products ranging from mild to extreme and offers samples, so you can see how much heat you can handle before you buy. Snag a few bottles of hot sauce or salsa to take home with you.
8. Game Time
You can't let the weekend go by without a little friendly competition. Bring the boys to Arena the Next Level Arcade, and battle it out with a game of bazooka ball or laser tag. Your crew will have a blast jumping, shooting, and crawling to bring their team to victory. Cool off afterward with a game of hoops or ski ball in the arcade. The losing team can buy everyone drinks down below at Pour Smart Bar!
Check out other exciting beach activities and discover bachelor party ideas in Gulf Shores and Orange Beach!