Book Memorial Day Early for Best Beach Selections
April 3, 2014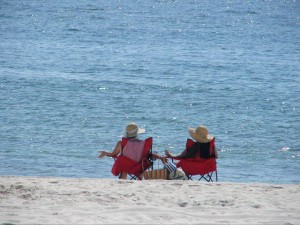 We may have just had the first day of spring on March 20, but the official kickoff to the Gulf Shores and Orange Beach summer season is right around the corner. The Alabama Gulf Coast will be hopping on Memorial Day weekend, May 23 to 26. Whether you
want to relax on the white-sand beaches or take part in the holiday festivities, you can do as much or as little as you'd like. But, first things first, you'll want book your Gulf Shores condo or Orange Beach hotel early to get the best deals and availability.
Beach houses are perfect for large families or groups who want added privacy and room to spread out. However, even if you're not with a large group, there are Orange Beach and Gulf Shores cottages that offer ample space for parties of four. If a pool is important, you'll even find a selection with private or community-shared pools.
Beach condos offer families the flexibility to enjoy meals in their home away from home. It's a great option for those looking to save money on their overall trip expenses. Most Gulf Shores condos also offer pools, hot tubs, fitness centers and other amenities.
Orange Beach hotels are ideal for couples or small families seeking a hassle-free weekend away enjoying the sunny shores of the Alabama Gulf Coast. Some hotels offer a complimentary continental breakfast, making your trip that much easier.
Outdoorsmen will appreciate the selection of campgrounds throughout Gulf Shores. Pitch your tent or back your RV into its spot for a fun weekend of hiking, biking and beachcombing.
Memorial Day weekend is about fun and relaxation, so no matter the type of beach accommodations you choose, you'll suddenly find yourself in a whole new state of "this is the life" on your holiday getaway to Gulf Shores and Orange Beach.