Calling the #LostAndHungry Crew from Sorted.Food
April 24, 2015
Hey, food lovers! The #LostandHungry crew from Sorted.Food has made the trip "across the pond" and is anxious to get a taste of the U.S.! That means Jamie, Ben, Barry and Mike may be coming to a city near you - but there's a catch! They can't come unless
we invite them and tell them exactly what foods they should try! So unless we help them out, they will definitely be #LostAndHungry.  We think you'll agree: Gulf Shores and Orange Beach need to be on their food radar!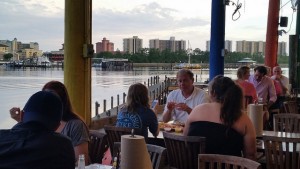 According to their blog, in order to bring our favorite foodies here we have to answer a few questions like: "What should we eat when we get there?" "Who makes the best version?" "What's unique and local?" "What challenges should we try in the area?" That's where you come in! We need YOU to give the guys some suggestions! What do you recommend?
Speak up for Gulf Shores and Orange Beach! Tweet them using the #LostAndHungry hashtag, leave a comment on their YouTube channel, or give them some pointers on their blog at Sorted.Food. We sure don't want them to leave the Gulf Coast feeling famished, do we?
While you're at it, don't forget to get in on the Eat Your Way contest. Kick up the excitement on your next Gulf Shores and Orange Beach vacay by entering one or all three of our Eat Your Way contests:
Visit a local restaurant and snap a photo of something delicious. Submit your entry to our Eat Your Way Photo Contest team and you could win a three-night stay with Young's Suncoast Realty and Vacation Rentals, a romantic cruise for two with Sail Wild Hearts, and gift cards from LuLu's and Mojo's!
Enter the Eat Your Way Around the Beach Vacation Sweepstakes and you could win a three-night stay from Brett/Robinson Vacations, plus gift cards from LuLu's Gulf Shores, Cobalt the Restaurant, and Original Oyster House.
Have a bombshell recipe that you want to share? You're in luck! The Eat Your Way Recipe Contest is in full swing! Send us your favorite beach recipe and you'll have a chance to win a three-night stay from Kaiser Realty by Wyndham Vacation rentals and a cruise with Cetacean Cruises, plus gift cards to the Flora-Bama, Ribs and Reds, Tacky Jacks, and Cosmo's Restaurant.