Eat Your Way Around the Crab Trail
A Part Of The Beach Bites Series
Crab cakes, crab claws, crab melt, crab dip. If you're a crab lover, you've got great options at Gulf Shores and Orange Beach restaurants. There's no better way to enjoy Alabama Gulf Coast crab than right off the boat. Whether you like a crab cake slathered in remoulade sauce or crab claws dripping with tangy marinades, you've come to the right place. Try 'em any way you want 'em on a Crab Trail during your vacation on Alabama's white-sand beaches. For more Crab Trail options, be sure to check out the Eat Your Way restaurant directory and fan favorite restaurants.
BREAKFAST
Crab for breakfast? Oh, yeah! Order up a serving of Soft-Shell Crab Benedict at Brick & Spoon in Orange Beach. A cornmeal-dusted soft-shell crab sits on top of a bed of Canadian bacon, poached eggs and house-made hollandaise. Oh, and there's the English muffin, too. If you really need your seafood fix, throw in an order of Deviled on the Bayou. It's not crab, but who could resist tasso deviled eggs topped with a crispy fried oyster and sriracha aioli?
LUNCH
DeSoto's Seafood Kitchen pairs your love for crab and shrimp in its Crab & Shrimp Bisque. Paired with a house or Caesar salad, it's the perfect savory and slightly sweet lunch for a day at the beach. In fact, DeSoto's is close enough to the main public beach in Gulf Shores you can easily walk over to get your crab fix.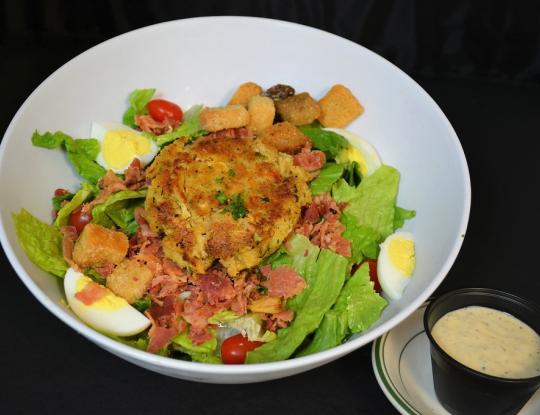 DINNER
You know you're taking a BLT to the next level when you add succulent seafood to the mix. On your Crab Trail adventure, ask your server for the Crab Cake BLT Salad at the Original Oyster House in Gulf Shores. This moist, yet slightly crispy crab is served with Bill-E's locally sourced small-batch bacon, tomatoes and house-made Parmesan croutons. Of course, there's lettuce in there, too.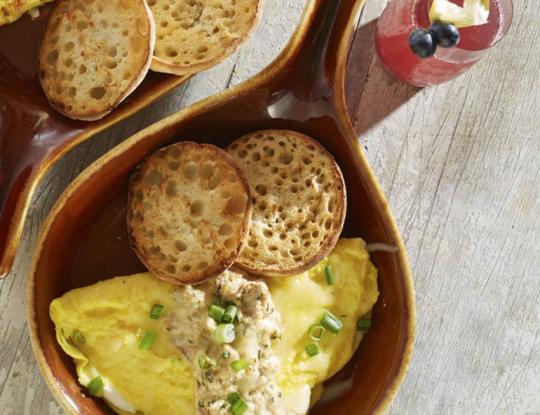 BREAKFAST
If you didn't get your fill of crab during breakfast on Day 1 of the Crab Trail, bring your brunch appetite to Another Broken Egg in Orange Beach and ask for The Floridian Omelet. (Just remember you're on Alabama's beaches and not in our neighboring state!) The Floridian is a cream cheese-filled omelet topped with garlic butter-sautéed crab meat, Monterey Jack cheese and green onions. And if that doesn't fill you up just by reading about it, it also comes with country potatoes or grits and an English muffin.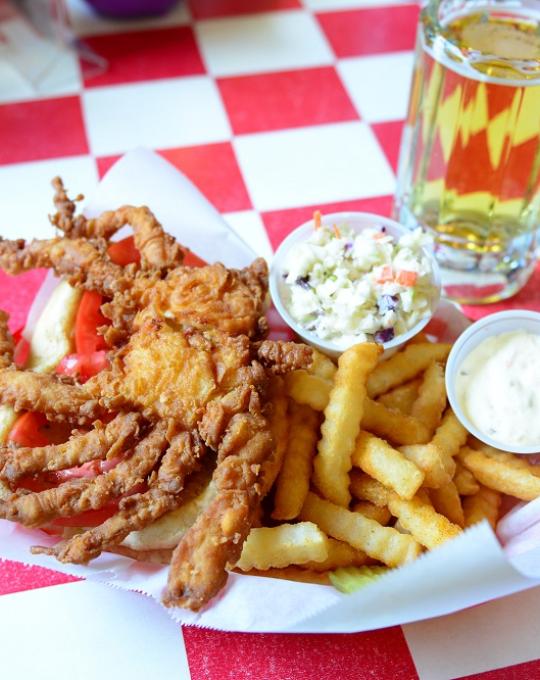 LUNCH
It wasn't voted one of the Top 10 Seafood Shacks in America by Fox News for no reason! Add Doc's Seafood Shack to your must-try Crab Trail spots during your Orange Beach vacation. Stop in at Doc's for the Ole Spider Burger. In Doc's speak, it's a "big ole crab" (soft-shell crab) deep fried a golden brown and on a bun with all the fixin's. You can even slather it with remoulade if you'd like.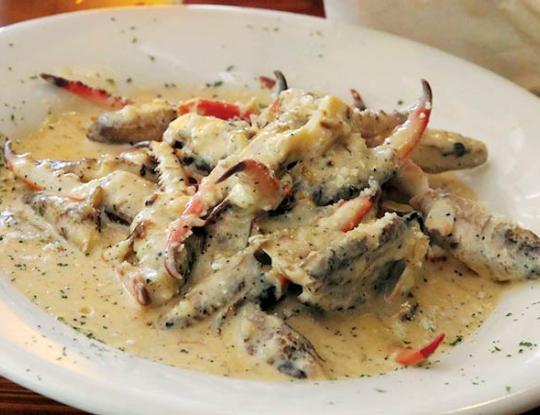 DINNER
While this beautiful serving of "major fabulous" is listed on the menu as an appetizer, The Tin Top Restaurant & Oyster Bar offers two sizes of Sauteed Crab Claws, both of which serve quite well as your main entrée. Those taste buds will be doing a major happy dance as you inhale a creamy alfredo sauce with parmesan cheese and lots and lots of crab claws! Garlic bread comes along with this happy-making plate, so you can get every single drop of deliciousness!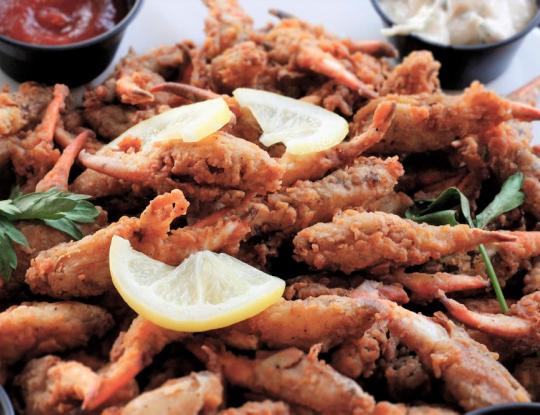 LUNCH
You can't ignore the crispy goodness of a basket of crab claws fried to perfection and piled high. Take your pick of remoulade or cocktail sauce and dip to your heart's content. Tacky Jacks says it's an unmistakably Gulf Coast dish, and we think they're right. Sure, you can get them steamed at Tacky Jacks as well, but it's hard to pass up fried crab claws.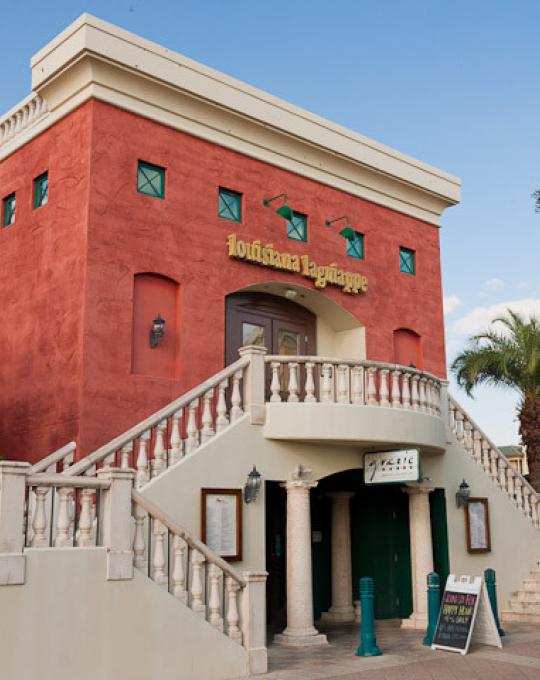 DINNER
Wrap up your Crab Trail with a next-level entrée at Louisiana Lagniappe. The Eggplant Orleans is served with house-made hushpuppies, house salad and a baked potato, but you might forget you have sides altogether. Picture medallions of deep-fried eggplant topped with jumbo lump crabmeat and rich hollandaise sauce. Go ahead, pick your chin off the table. Yes, it's that good.
SIMPLY CAN'T WAIT? TRY CRAB STUFFED MUSHROOMS
Recipe Courtesy of Shanna Bailes
Ingredients
1 cluster of crab- steamed
1 pkg. cream cheese, softened
1 pkg. large button mushrooms, (about 12-14)
1 7-oz. pkg. Sargento Bistro Mozzarella & Asiago cheese (or fresh asiago and mozzarella cheeses)
3 cloves garlic - optional
olive oil spray
Directions
1- Preheat oven to 300 degrees. Wash mushrooms and set aside to dry. (Remove the stems after cleaning the mushrooms.) Steam your crab legs and set aside to cool. Put softened cream cheese in a large bowl and mix well with a fork. Once the crab legs have cooled, remove the meat from shells and put into a separate bowl. Chop into smaller pieces.
2- Put shredded cheese into a small bowl and set the bowl aside. Chop the garlic cloves and mushroom stems (use about 6 of the stems) into small pieces. Fold the crab meat, and mushroom stems in to the cream cheese. Take the tops off of the mushrooms, turn them over to see the hole, put some of the chopped garlic into the bottom of the mushroom, take the cream cheese mixture with a small spoon or fork and stuff the mushroom until there is a little mound on top. Dip this into the shredded cheese and place the mushroom on an aluminum-lines baking sheet (spray a little olive oil on the aluminum). Repeat this until all of the mushrooms are complete.
3- Bake for approximately 20 minutes or until cheese is brown and bubbly on the top. Let cool 5-8 minutes and serve.