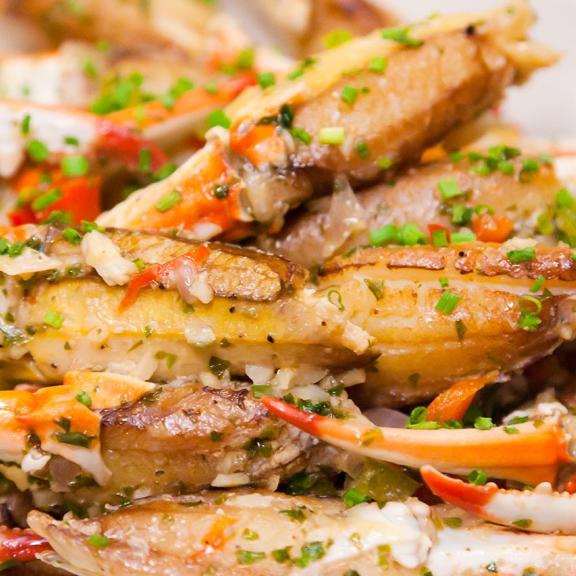 The Crab Trail
In Gulf Shores & Orange Beach
Lunch: Luna's Eat & Drink
Everyone needs a lunch break, especially if you have been at the beach all morning. Take a break and stop by Luna's Eat & Drink in Orange Beach. Try their crab and artichoke melt made with blue crab and artichokes blended with Parmesan and Swiss cheeses, oven-baked and dressed with fresh greens on toasted BuzzCatz (their sister restaurant) white bread.
Lunch: Ginny Lane Bar and Grill
Ginny Lane Bar and Grill at The Wharf in Orange Beach is the perfect spot for lunch on day two of your crab trail journey. Begin with the blue crab dip, made with cream cheese, Old Bay, Tobasco, mozzarella and fresh blue crab and served with tortilla chips. Next, order up a plate of the seafood pasta. This mouthwatering meal includes crab, shrimp, spinach and peas in a creamy Alfredo sauce over linguini.
Lunch: Original Oyster House
Head over to Original Oyster House in Gulf Shores for lunch and bring your appetite because this spot offers plenty of crab meals on the menu. From crab claws and crab cakes to baked stuffed crab and soft-shell crab po'boys, you'll have a hard time deciding what to get! 
SIMPLY CAN'T WAIT? TRY CRAB STUFFED MUSHROOMS
Recipe Courtesy of Shanna Bailes
Ingredients
1 cluster of crab- steamed
1 pkg. cream cheese, softened
1 pkg. large button mushrooms, (about 12-14)
1 7-oz. pkg. Sargento Bistro Mozzarella & Asiago cheese (or fresh asiago and mozzarella cheeses)
3 cloves garlic - optional
olive oil spray
Directions
1- Preheat oven to 300 degrees. Wash mushrooms and set aside to dry. (Remove the stems after cleaning the mushrooms.) Steam your crab legs and set aside to cool. Put softened cream cheese in a large bowl and mix well with a fork. Once the crab legs have cooled, remove the meat from shells and put into a separate bowl. Chop into smaller pieces.
2- Put shredded cheese into a small bowl and set the bowl aside. Chop the garlic cloves and mushroom stems (use about 6 of the stems) into small pieces. Fold the crab meat, and mushroom stems in to the cream cheese. Take the tops off of the mushrooms, turn them over to see the hole, put some of the chopped garlic into the bottom of the mushroom, take the cream cheese mixture with a small spoon or fork and stuff the mushroom until there is a little mound on top. Dip this into the shredded cheese and place the mushroom on an aluminum-lines baking sheet (spray a little olive oil on the aluminum). Repeat this until all of the mushrooms are complete.
3- Bake for approximately 20 minutes or until cheese is brown and bubbly on the top. Let cool 5-8 minutes and serve.