What's Biting: Cure your 'Two Foot-Itis' at The Wharf Boat and Yacht Show
March 9, 2016
After the past weekend of warm, sunny days two different ailments have hit the Gulf Coast. Spring fever, which everyone is susceptible to, and a widespread strain of 'Two Foot-Itis' which only afflicts current boat owners.
Luckily, the cure for both is right around the corner. Spring will be here on March 20th. For those wishing their boat was just a little bigger
The Wharf Boat and Yacht Show begins on March 17, and is just what the doctor ordered for for a severe case of 'Two Foot-Itis'.
[caption id="attachment_6489" align="alignright" width="300"]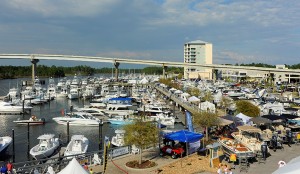 The Wharf Boat & Yacht Show in Orange Beach, Alabama[/caption]
Walking the docks and looking at beautiful boats at The Wharf Marina is a favorite activity at any time of the year. But when the number of boats grows from about 150 to more than 600, next weekend is the only time of year to see so much fiberglass and horsepower all in one place. If you lined up all the inventory, bow to stern, the line of vessels would stretch for nearly three and a half miles.
Sportfishing yachts, center consoles, bay boats and personal watercraft will cover almost every square inch of space both on land and in the water at The Wharf. Last year nearly 10,000 people attended the show.
"This show has grown into a show which draws buyers regionally," said Scott Burt President of The Wharf Boat and Yacht Show. "Last year more than $16 million dollars' worth of boats were sold at this event. The dealers offer the best brands at the best prices, and when you combine that with the location at The Wharf Entertainment Complex we can attract buyers and show attendees from all over the Southeast."
Of course, not everyone who comes to a boat show is there to buy a boat. In addition to being able to see all the newest models, the show also features marine accessories, fishing equipment, apparel and other products geared to all around coastal living.
Each day of the show has a particular theme. The show opens on the afternoon of March 17 with the 'Stars over Alabama' VIP Red Carpet Party. If you can get your hands on one of these hot tickets, do not miss the opportunity. Get your picture taken on the red carpet, enjoy a glass of champagne and preview the show before it opens to the public on Friday.
Friday is locals day, with show hours from 10 am to 7 pm. Locals can get into the show for just $7 with local ID at the gate. My favorite day of the show is Ladies Day on Saturday, March 19 also from 10 am to 7 pm. The Wharf Boat and Yacht Show is the only boat show in the country with a day geared toward the ladies. There is a fashion show, a photo shoot for models and hair and make-up stylists on site to offer expert tips for a beautiful boating season.
Sunday, March 20 wraps up the weekend with 'Lagniappe Sunday.' A pet-friendly day featuring 'end of the show' deals, Mardi Gras beads and jazz music. Tickets to the boat show are $10.00 per adult, kids 12 and under are free.
For more information and a complete show, schedule visit www.wharfboatshow.com.