What's Biting: Running Mates
May 4, 2016
June 1st, the day Red Snapper fishermen look forward to each year. It marks the beginning of the Federal Red Snapper season. This year it also marks the closure of Triggerfish season, until July 31. Triggerfish actually could close before then, but as of right now it is still open. That had me looking for a calm day to make a dual purpose offshore trip.
My first goal was to find some tasty Triggerfish and the second was to check on some of my Red
[caption id="attachment_6769" align="alignright" width="225"]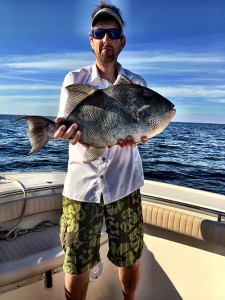 Author Jim Cox with a BIG Triggerfish![/caption]
Snapper spots before opening day. Luckily for me, and not so much for the Triggerfish, I was able to accomplish both.
Triggerfish and Red Snapper are usually found on the same reefs and wrecks. "We find our Triggerfish spots when Snapper fishing," said Captain Casey Price of Lady D Charters in Orange Beach. "Some spots hold more Triggerfish than others, but you will find them with the Snapper most of the time."
I found a spot that held Triggerfish during last year's Red Snapper season. Triggerfish closed for the year in February of 2015, so as I was catching them during Snapper season they all went back. But I marked the spot on the GPS, and I knew I too would be back.
Triggerfish are one of my absolute favorite fish to eat. Chef Bill Briand of Fisher's at Orange Beach Marina agrees with me. "I love to serve Triggerfish because it is such an excellent fish, it doesn't need much to become a wonderful meal." Chef Bill prepares Triggerfish so that it is the star of the plate. "You want to taste the Triggerfish itself, so I like to pan sear it in extra virgin olive oil and finish it with a squeeze of lemon." I took my friend Bill's advice the first night after catching a limit of Triggerfish on my trip. Two nights later I did an egg white wash with a Panko crust and salt and pepper and it too, was delightful.
Preparing Triggerfish may be on the simpler side of cooking fish, but catching them can be anything but simple. Have you even been fishing on a Snapper spot and become frustrated because all you are getting is a little tap-tap-tap resulting in your bait being gone every time you reel up your line?
Maybe the structure is just covered with small fish? Or, maybe it's loaded with Triggerfish! Triggerfish are some of the best bait stealers that swim. They have a very small mouth, but are very aggressive eaters with a strong jaws and teeth. They don't come in and attack the bait like other fish do, they more love to hang around the bait and chew on it with small, precise bites.
Their small mouths make them very hard to hook if you are geared up to catch Red Snapper. Using small hooks is your only chance to catch Triggerfish. A 1/0 or 2/0 sized circle hook (by law you must use a circle hook with bait) should be perfect. Squid is also your best option, not only because Triggerfish love to eat squid, but it's harder to get off the hook too. Squid will give you more chances to set the hook.
I hope to make another trip or two to check on more Snapper spots. I will be rigged up for Snapper but as soon I feel those tiny little bites, I will grab my other rod already set up for Triggerfish. Even after you downsize, Triggerfish will still frustrate you. You will see a bare hook come up from the depths more times than not, but once you get the feel for them, your patience and taste buds will be rewarded.