Big Fun Fishing Tournaments
A Part of the What's Biting Series
June 1, 2016
Fishing tournaments are a big part of summer fun along the Gulf Coast. As we turn the calendar to June, we already have two, big money, big game tournaments in the books.
The Orange Beach Billfish Classic got the tournament season started at The Wharf two weeks ago and this past weekend saw the annual Mobile Big Game Fishing Club Memorial Day Tournament at Orange Beach Marina. These two events are loads of fun for both participants and spectators that watch the weigh-ins.
The tournament focus will shift from big game, big boats and big dollars to big prizes and big fun over the next two weekends. The Kyser Myree Memorial Fishing Tournament is moving from Dauphin Island to The Wharf in Orange Beach this weekend.
This tournament features adult categories for Red Snapper (which is open in federal waters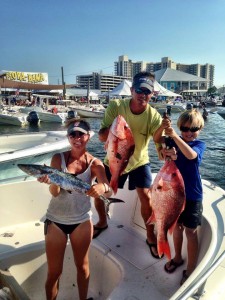 during this event), Speckled Trout, King Mackerel and slot Redfish. Kids twelve and under will compete in the Red Snapper, Speckled Trout, White Trout and Croaker categories. Prizes are awarded for first through third place in each category. Everyone participating in the tournament is eligible to win a $100,000 cash prize by catching the new Alabama state record Red Snapper. Tickets are $20 for kids and $30 for adults.
When it comes to big fun and big prizes, it's virtually impossible to beat the Flora-Bama Fishing Rodeo. The Flora-Bama is all about fun and their fishing tournament is has become known as 'The Funnest Fishing Tournament on the Gulf Coast.'
Whatever fish you prefer to target, it's probably a category in this tournament. First, second and third place prizes will be awarded in a whopping thirty-eight different categories. Tournament chairman Angelo DePaola says he loves the fact that this tournament awards so many prizes to so many different people.
"When we started this tournament we wanted to make sure it was for everyone. It doesn't matter what type of boat you have or even if you have a boat. We have categories for kids and adults. We want to give that family that is going to go fishing at some point during the tournament weekend, a chance to win an awesome prize. You have just as good of a chance to win if you are fishing from shore, a dock, a boat or a kayak."
There are also optional categories for those who want to compete in the 'Competitive Angler Divisions.' Like the rest of the tournament, these optional entries are wide ranging. The 'Trash Can Slam' will reward anglers for catching a Lady Fish, Blue Fish and Gafftopsail Catfish. There are also optional entries for the Speckled Trout Championship, King Mackerel Championship and an Offshore Slam Championship for Tuna, Dolphin, Swordfish and Wahoo.
The third annual Flora-Bama Fishing Rodeo is June 10th-12th at the Flora-Bama Yacht Club. Tickets for kids are $25 and adults are $45 and available online.