How to Beat the Summer Heat
June 3, 2016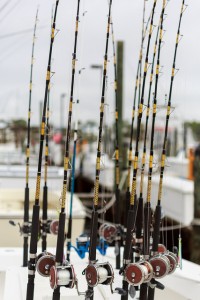 On the Alabama Gulf Coast there is no off-season for the avid angler. But there is one season that is more challenging than the others. Summer, beautiful summer – a fun time for playing at the beach and in a pool, but not so much fun for fishing. Even the fish head to the cooler, deeper water in the heat of the day. How do you beat the heat of summer to enjoy your fishing time? We have some suggestions to keep your hook in the water and fish on your plate.
Have you tried your hand at fishing after the sun goes down or before it rises? In the area back bays, the fish will likely be hanging around lighted areas with piers and boat houses. The law of nature comes into play: Insects are attracted to lights, little fish and crustaceans are attracted to insects, and bigger fish are attracted to little fish.
One of the main things to remember when fishing at night is to keep the noise at a minimum.  Also, if you head out to fish in the cool of the night, be sure your running lights are in proper working order!
Rather fish in the daylight? Make sure you take precautions for your health and safety. A little planning goes a long way on a hot summer day. These tips will help you enjoy your day.
Stay hydrated – Be sure to pack plenty of water and maybe a few sports drinks. Drink plenty and drink often during the day. If you consume caffeinated or alcoholic beverages, be sure to drink extra water to compensate for fluid loss.
Wear sunglasses – Even most of the cheap sunglasses today will protect your eyes from the sun's dangerous UV rays. Polarized lenses will cut down on glare in the water. A lanyard is also a good idea to keep them from going overboard.
Wear a hat or other head protection – Wide-brim hats will protect your ears, face and neck. Even a baseball cap will offer needed protection for your face.
Wear and carry proper clothing – Protecting your skin is important. You may start off with short sleeves and shorts, but having a long-sleeve shirt and even a pair of pants is a good idea if you plan to be in the sun all day. Some sportswear name brands offer clothing with sun protection.
Sunscreen – Have sunscreen with you and apply it liberally! Apply the first coat 20 to 30 minutes before exposure and reapply often if you are sweating or get wet. Sports sunscreens are mostly waterproof and offer better protection. Be sure to follow the label directions on how often to reapply. Don't forget your feet! If you're wearing sandals, your feet will get sunburned very quickly.
Last, but not least, take cover – If your boat has a covered area, use it often to take a break from the sun.