MBGFC Billfish Limited Tournament
A Part of the What's Biting Series
July 27, 2016
If you saw any of the Blue Marlin Grand Championship at The Wharf earlier this month, it wasn't only big fish that were on display. The only thing bigger than the 806-pound blue marlin that was weighed were the boats fishing in the tournament. Two boats were ninety-two feet and one was one-hundred and five feet long!
Big boats certainly offer a multitude of advantages when targeting large fish, but that doesn't mean you can't land the big one in a 'little boat.' This weekend, the Mobile Big Game Fishing Club is hosting its annual 'Billfish Limited Tournament.' This tournament is all about us little guys. As someone who fishes out of a 26' center console, this is a weekend I look forward to all summer.
The tournament format limits participants to outboard only powered boats, or inboard boats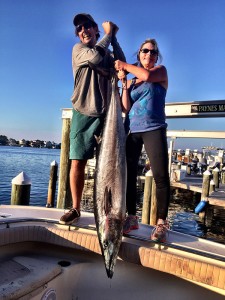 32' and under in length. No big sportfishing yachts with air conditioning and staterooms in this tournament. The only air conditioning comes from the wind while you are riding on a bean bag.
This small boat, big game fishing tournament has four categories. Catch and release billfish along with tuna, dolphin and wahoo. Teams will compete for cash prizes and tournament prizes and registration is open to anyone that wants to fish the tournament. A new wrinkle this year, includes the addition of the Gulf Coast Outboard Classic Tournament being a part of the tournament. The 'GCOC' was scheduled to take place in June but had to be postponed due to rough seas. The two events decided to combine and put on a larger tournament this weekend.
"Now we have a bigger tournament, with more prize money and prizes to give away," said MBGFC Limited Tournament Chairman Robert Cook, who expects no shortage of big fish to come to the scales. "Just because the teams in this tournament fish from smaller boats, that is not a reflection on their fishing skills. We'll have multiple billfish releases and there are always big yellowfin tuna caught in this tournament."
The biggest challenge small boats have is weather and accessibility to blue water. "As long as we have nice weather, we will have a great tournament. There is pretty water well within the reach of the teams fishing this weekend." This is good news for both locals and visitors who have trailered their boats to Orange Beach for the event.
Some teams will run to the rigs seventy-five miles from Orange Beach while others will make even longer runs. "The last two years, the winning marlin has been caught just thirty to thirty-five miles offshore," said Cook. "This is the time of year when the marlin fishing really turns on in close."
The Limited Tournament is affectionately known also as the 'Monkey Boat Tournament.' A term charter boat captains have long used to describe small boats. Though the boats may be small in size, there is always a big fun factor. For some teams, this is the only chance they get to fish together all year. "It's a tradition for a lot of us. The last weekend in July means we are all going marlin fishing and competing against boats our same size," said Cook. "We have families that plan their vacation to the beach around this tournament."
Teams can register online or at the MBGFC clubhouse on Friday night before the captain's meeting. Friday night features a dinner and party. Teams fish on Saturday and the weigh dock opens at 4:00 PM at the MBGFC Clubhouse at Orange Beach Marina. Teams must be through the rocks at Perdido Pass by 8:00 PM to weigh their fish as the scales close at 9:00 PM. The awards ceremony and breakfast in on Sunday morning at 9:00 AM.