Fishing Fun Doesn't End After the Summer
May 24, 2019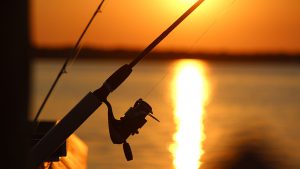 When the echo of summer sounds fade from the beaches of Gulf Shores and Orange Beach, the fishing comes back to life! After a hectic summer fishing season, fall is the time to slow down and enjoy the bounty offered by the Gulf of Mexico and local back bays.
Near-shore fishing possibilities are seemingly endless in the fall. It's migration time for king mackerel and Spanish mackerel as they pass through on their way back to south Florida. Try trolling spoons and cigar minnows for the mackerel. You can find them near shore through October.
If fishing the surf is your favorite, look to catch whiting and pompano. Behind a cool front, the bull reds should move in. Don't forget flounder as they move from the rivers and bays to the Gulf in the fall.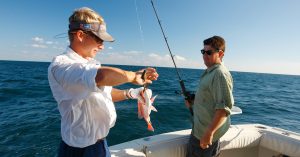 Autumn is also a good time to get some deep sea fishing action in. Book a 10-hour charter for amberjack and grouper. Catching a feisty amberjack is an experience you'll never forget! For a billfishing trip without an overnight stay, a 12-hour adventure could produce white marlin. The half-day trips of four to six hours can offer tasty catches like vermilion snapper and white snapper. These are smaller species and it takes a bunch to fill your basket, but when you have them on your plate, it's well worth it!
We have a choice that is right for you for fall fishing in Gulf Shores and Orange Beach.