Fishing or Gigging, Fall is the Time for Flounder
August 4, 2020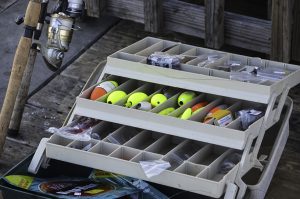 For a delicious treat that is fun to put on your plate, plan a fall trip to Gulf Shores and Orange Beach to fish for flounder. You can catch these comical-looking fish the traditional way with a rod and reel, but wading the shoreline with a good light and a gig is a fun way to fill a stringer.
From September through November, fall migration brings flounder from the creeks and rivers to the back bays and Gulf. This is the best time to try your hand with a rod and reel or a gig. There are two species of the flatfish found in Alabama: the Southern flounder and the Gulf flounder. The most common of the two is the Southern flounder. They are larger, typically growing to 28 inches, and live longer than the Gulf flounder that reach around 18 inches.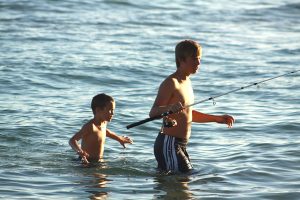 For those who don't want to get their feet wet, the best baits are live minnows, mullet, shrimp and minnow-shaped grubs. For artificial bait, try red, pink, white or yellow grub-tailed jigs. Let your bait drift on the bottom when you feel the bite, don't set your hook. Wait a few seconds for the fish to really get a grip on the bait.
Now let's get our feet wet and really enjoy the flounder experience with a gig! The only equipment you'll need is a good light and a gig. Pick a night with little or no wind, and head for a sandy stretch of beaches and bays. When you spot the fish on the bottom, aim low with your gig to offset the refraction of the water. If you hit your target, don't be too quick to pull it up. The fish will fight and you will pull up an empty gig. There are a couple of ways to get your fish off the gig. You can quickly scoop it with the gig and give it a toss to the beach. Or you can use your hand to reach under the fish while it is still gigged in the sand.
Whether fishing or gigging, a saltwater license is required. The flounder bag limit in Alabama is 10 fish per person with a 12-inch size minimum.