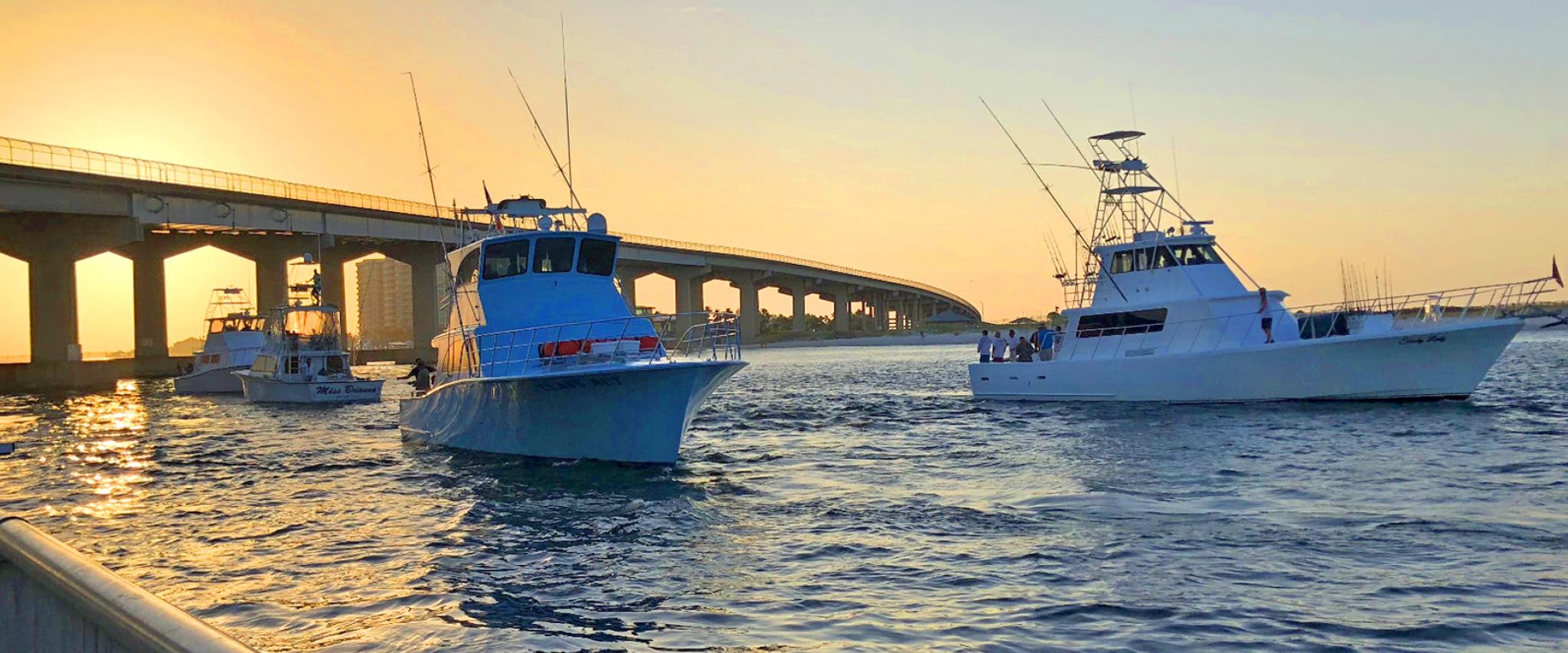 Plan Your Boat-friendly Beach Vacation on Alabama's Beaches
Get your motor running and bring your boat along for a boat-friendly vacation along the sandy shores of Gulf Shores and Orange Beach.
July 24, 2020
Have boat will travel? If so, the beaches of the Alabama Gulf Coast are calling your name. Planning a boating vacation does require a little more research, but for those who love being on the water, it's well worth the time.
We've compiled a few tips to help you get started.
Lodging. You'll find numerous Gulf Shores and Orange Beach condos with boat slips, and even beach houses with private piers perfect for docking your vessel. When speaking with a rental property management company about boat-friendly options, don't forget to ensure the property offers trailer storage as well as boat slips; some properties offer complimentary boat slips for renters, while others charge a daily fee. In addition, some boat-friendly condos offer slips on a first-come, first-serve basis which can be tricky if you're vacationing during peak season.
Dining. There's no shortage of boat-friendly eateries lining the waterways in Gulf Shores and Orange Beach. If you don't feel like packing a cooler full of sandwiches, cruise on over to a beach restaurant for breakfast, lunch or dinner. In Orange Beach, you can float in to Tacky Jacks, Flipper's Seafood & Oyster Bar, Fisher's Dockside, Cobalt Restaurant, Flora-Bama Yacht Club and Flora-Bama Ole River Grill. The Wharf Marina also offers transient slips for boaters looking for fun and food at The Wharf. In Gulf Shores, stop in at LuLu's and the Gulf Shores or Fort Morgan location of Tacky Jacks. For more dining options who will cook your catch, check out the restaurants section of our website.
Accessibility. You brought your boat, now where do you launch? There are a number of boat launches available including: Lagoon Park/Mo's Landing on the Fort Morgan peninsula, Boggy Point in Orange Beach at the end of Marina Road, Cotton Bayou on Highway 182 in Orange Beach and Josephine Park in close by Elberta. When you need to refuel with marine gas, you'll find more than 10 marinas ready to send you on your way for a day of fun in the sun.
Boat Rentals. If you're a boater who can't bring your watercraft along for the ride, you can still enjoy a day on the water with a Gulf Shores or Orange Beach boat rental from a quality place like Flora-Bama Marina & Watersports and others. Whether you're in the market for a fishing boat or a double-decker pontoon boat with a slide, you'll find the perfect ride for a day of fishing and fun.
Fun Spots to Explore. Several nearby locations are popular for boating enthusiasts to explore including Fort McRee, one of three forts built to defend Florida's Pensacola - the City of Five Flags. Years of neglect weathered away at the fort, but it still attracts visitors for its historic value. Due to the remote nature of the site, there are no facilities and metal detectors are not allowed. Also, check out Robinson Island & Bird Island Park purchased by the City of Orange Beach in 2003 in an effort to protect the area from development. Today the area is a sanctuary for birds and wildlife, and visitors love this park which acts as an important habitat for sea birds. Bring a trash bag and help keep things tidy, note that no glass or pets are allowed and don't pick the sea oats…but do plan on a fun-in-the-sun day enjoying nature. Lastly, Sand Island Lighthouse, owned by Dauphin Island residents, is a fun place to take the boat to. A work in restoration progress, the Alabama lighthouse represents the state's first seacoast light.
For more information to help you plan your boat-friendly beach vacation, check out the boating section of our website.