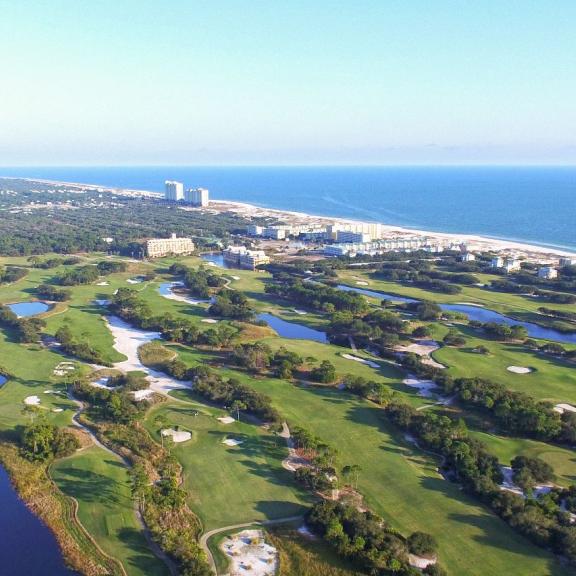 Five Challenging Holes on Gulf Shores Golf Courses
Golfers heading to the Alabama Gulf Coast should be prepared to experience the inherent beauty of its golf courses and get ready for some challenging experiences that will test even the best.
January 25, 2021
While Gulf Shores and Orange Beach have an eclectic blend of courses, ranging from links-style to traditional parkland, there is a collection of iconic holes that every standard of golfer will enjoy.
Let's take a look at five holes on the Gulf Coast that epitomize everything there is to love about unique golf course design, along with a few tips on how to create the best strategy to overcome these holes without losing too many balls!
6th Hole at Craft Farms Golf Resort 
When the great Arnold Palmer designed the beautiful 36 holes at Craft Farms, he left his mark on almost every hole with the ultimate risk-reward experience evident on many of the designs. One of the highlights is the 6th hole at Cotton Creek – a short par 4 dogleg that has water along the right side of the fairway and on the approach to the green.
The more aggressive you are with your tee shot, the easier the second shot will be as you give yourself an opportunity for a birdie. Palmer's influence on this course design is epitomized by the various features on the 6th hole. Whether you are a seasoned golfer or beginner, this hole reflects everything there is to love about both Craft Farms and the late Arnold Palmer!
2nd Hole at ONE CLUB Gulf Shores
The Gulf's newest course, ONE CLUB offers nine unique holes that will test every standard of golfer. The 2nd hole is an eye-catching par 3 over water with a bailout area to the left. It's critical that you select the correct club as this island style green has water short, right and over the back. 
Although the 2nd hole is relatively short, it has the potential to create havoc on your scorecard early in your round. While you cannot win a tournament on this hole, you can certainly lose it if you find the water.
Gulf Shores and Orange Beach have a plethora of aesthetically appealing golf courses. However, while the appearance of these courses creates an amazing experience for every standard of golfer, there are unique challenges all golfing abilities will enjoy.