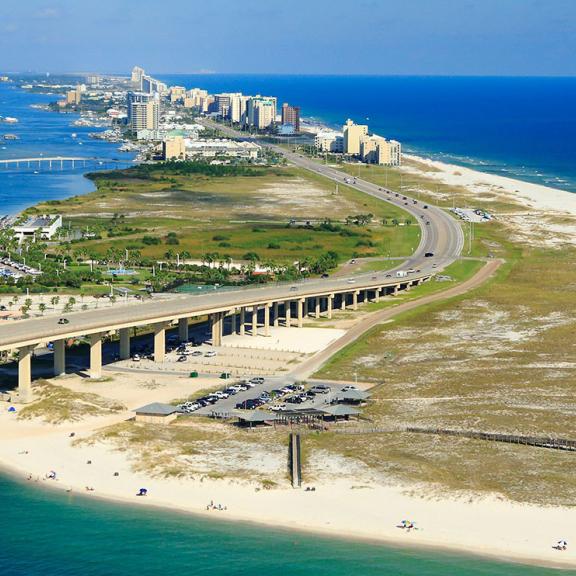 8 Things to Eat, See and Do in Gulf Shores and Orange Beach
Gulf Shores and Orange Beach are beloved vacation destinations.
August 4, 2020
Many visitors have been making the trek southward for years, and they often agree on many things from where to eat to what to see and do. But first-time travelers to the area are sometimes overwhelmed with options. Let us suggest eight things to eat, see and do that vacationers shouldn't miss when spending time in Gulf Shores and Orange Beach.
Sail Wild Hearts, an Orange Beach business boasting a 53-foot catamaran, offers a fun opportunity to get out on the water. Choose a tour that offers snorkeling, kayaking, swimming, sunset viewing or dolphin watching. Or choose the popular Blue Angels Sail, a once-in-a-lifetime experience where you'll anchor just behind the Pensacola Lighthouse when the Navy's Blue Angels are conducting practice flights (subject to their training schedule).
Hop aboard the Perdido Queen for a dinner cruise leaving Hudson Marina in Orange Beach. Enjoy a gourmet buffet, live music and spectacular sunsets on the water.
You scream, I scream, we all scream for ice cream! The Yard Milkshake Bar offers a delicious treat via specialty milkshakes, hand-dipped cones, edible cookie dough (eight flavors) and so much more! Choose from 28 flavors of ice cream and create an edible masterpiece! Get there early to avoid a long wait. Scoops Ice Cream and Matt's Homemade Ice Cream also offer yummy selections that cater to the ice cream lovers. For more sweet treats, visit our dessert directory.