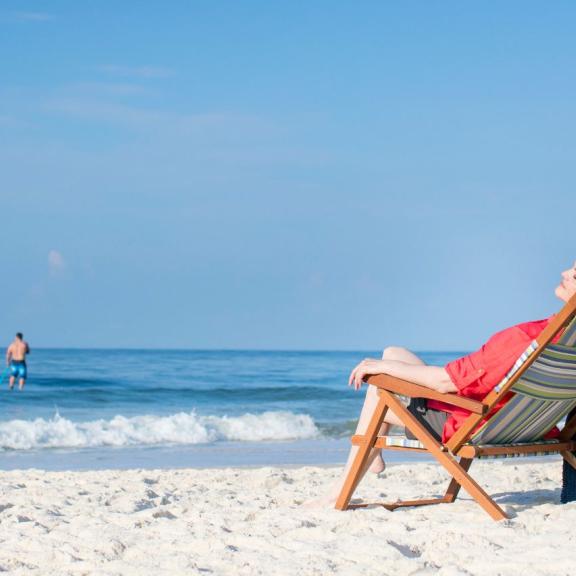 8 Things to Pack in Your Beach Bag
Headed to Alabama's white-sand beaches for a much-needed getaway but haven't got a clue what to pack? No worries! We've got you covered with this handy packing list.
August 4, 2020
Along with the essential items such as sunglasses and flip flops, below are our top eight beach-friendly things to pack in your beach bag when you're vacationing in Gulf Shores and Orange Beach.
Check out our video guide to packing for a family beach day in Gulf Shores & Orange Beach. Katie gives us a peek inside the perfectly packed beach bag with much more than just sunscreen and a book!
1. Sunscreen 
Nothing ruins a beach vacation quite like getting burnt to a crisp and heading home looking like a freshly-boiled lobster! Whether it's overcast or a bright sunny sky, sunscreen is a necessity to pack when spending any time on our sugar-white sand beaches. The American Academy of Dermatology recommends using sunscreen products that are water-resistant and SPF 30 or higher with broad-spectrum sun protection. Apply every two hours, especially if you're spending an extended time in the sun. And, if you happen to forget to pack your sunscreen, the Gulf Shores Main Public Beach has sunscreen dispensers available to all visitors. Bringing a sun hat is also a good idea for extra protection against sunburn.
2. Beach Towel 
Having a long, quick-dry towel available is a must-have on the beach. Whether you use it for lounging, to dry yourself and your kids off with, or to cover up as you run back up to the condo to grab another drink, packing a beach towel is something you don't want to forget to do. Left your towels at home? Stop into one of our local shops to grab one. The towels make great (and useful) souvenirs to pack up and bring back home.
3. Snacks and Water 
Spending time in the sun is physically draining, which is why we recommend you come to the beach prepared with snacks and plenty of water bottles to prevent fatigue and dehydration. Some of our favorite beachy snacks to pack are fresh fruit like watermelon and pineapple, sandwiches and wraps, pretzels and granola bars. It also never hurts to throw in a sports drink or two for added electrolytes.
4. Reusable Trash Bag 
In Gulf Shores and Orange Beach, we pride ourselves on providing a clean and safe experience for all who visit our beaches. Prior to leaving the beach for the day, be sure to remove all trash. A great way to remember to do this is to pack a reusable trash bag in your beach tote. If you have kids, turn it into a game:  whoever gathers their trash and toys up the fastest gets to pick where the family goes out to dessert that night!
5. Bucket Full of Toys 
Who says playing in the sand is just for the kids? No day at the beach is complete without building a sandcastle (or two or three…). But, to do that, you need to pack a plastic bucket, shovels, molds and rakes. If you forget, you can typically find these items at most shops in the area that are just small enough to stuff in your beach bag before you head out the door. Looking to become an expert in the art of sandcastle building? Be sure to book a class with Janel at Sand Castle University.
6. Books or Magazines  
Show your optimistic side and pack a book or magazine into your beach bag. While most of us are either watching our children or falling asleep in the sand, you may be able to squeeze in a quick read while you're basking in the sun. 
7. Speaker 
 From Jimmy Buffett and Kenny Chesney to The Allman Brothers and Tom Petty, crafting the perfect beach playlist is something many of our locals and visitors take great pride in. Celebrate your vacation playlist and pack a small waterproof speaker for your day out in the sun. Please be mindful of your neighbors and don't turn the volume up too loud!
8. Camera 
Lastly, pack a camera or a phone with a camera. This is a must-pack item! Lifelong memories are made here on Alabama's beaches and we don't want you to forget any of it. Whether it's your child's first dip into the Gulf, a family sandcastle building contest or a surprise engagement, you'll want to have some photos to commemorate your time spent with us here during your beach holiday in Gulf Shores and Orange Beach. 
Now that you know what to pack for a day out on our white-sand beaches, it's time to start looking for a place to stay with us! And, be sure to order a copy of our 2020 Vacation Guide for inspiration on what to see, do and eat while you're here.