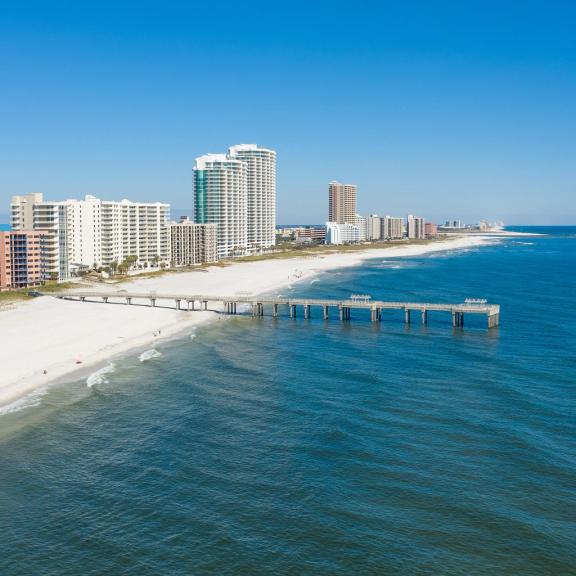 10 Things to Know Before Your Vacation
Gulf Shores & Orange Beach
Watch Now
Welcome to Gulf Shores and Orange Beach, two seaside towns among the country's fastest-growing vacation destinations.
4. And Yes, the Beach
The Alabama Gulf Coast boasts 32 miles of pristine beachfront with more than 15 public-access beaches along the shoreline, most of which have picnic facilities, and many have restrooms and showers. Your best bet is to start at Gulf Place, the main public beach in Gulf Shores at the end of Highway 59. There are volleyball nets, picnic pavilions, restrooms, showers, beach eats such as The Hangout and Pink Pony Pub, and nearby shopping. Most beach access points require paid parking through parking kiosks, and prices start at $3, depending on the size of your vehicle and length of stay. Biking is a great way to get to the beach affordably.
6. Getting Around
Plan to bring a bike or rent one at one of the many rental shops during your stay. You can also use the free bike share program if you're pedaling through the Gulf State Park. A unique concept, the free bike share program allows visitors ages 16 and older to borrow a bike for up to three hours. You'll find everything you need close by, and traveling via two wheels is a fun way to get around.
Another tip while cycling Gulf State Park is to plan a stop at Woodside Restaurant. Enjoy a fresh meal in the main dining room, screened porch, or on the outside deck under a shade tree. Aside from fabulous Southern cuisine made from locally sourced ingredients, you can enjoy a wide array of backyard games! Woodside is open for breakfast, lunch, and dinner, plus take-out is available.
8. Forget Something?
There's no need to panic if you leave something behind. Anything recreational, from bikes to paddleboards, can be purchased or rented at lots of different spots. Grocery stores and big-box retailers give you easy access to extra sunscreen, groceries, and over-the-counter medications. Want to get ahead? Place a grocery order in advance to stock your condo (especially helpful if you have kiddos in your party). You can order online with Walmart, Publix or Rouses or let The Beach Moms concierge service get your condo or beach house ready for you by doing your shopping. The Beach Moms will stock your pantry and fridge and arrange excursions. All you have to do is arrive and relax.