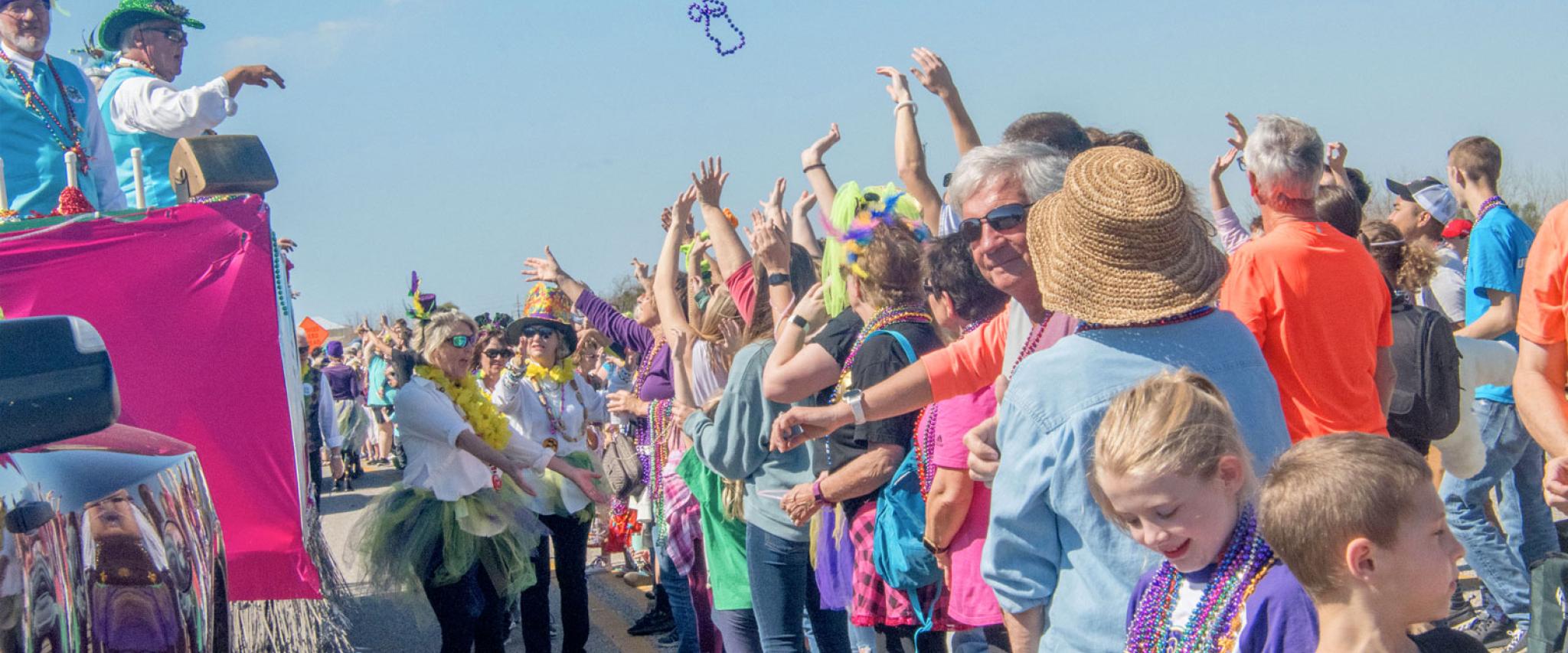 A Couples Getaway, Mardi Gras Style
Have you ever planned a getaway with your sweetie to Alabama's Gulf Coast during Mardi Gras season?
December 6, 2018
What fun it is when you let the good times roll! There's food, music and parades galore, and maybe some things you hadn't anticipated, too.
Lucy Buffett's LuLu's is known for fresh seafood, live music and lots of fun with activities for the kiddos as well as the adults, but did you know they have a Mardi Gras ball? The Birds of Paradise Mardi Gras Ball is a 21-and-older event, specially ticketed, with lots of dancing, a great band, an open bar and a buffet. Order tickets online (early) for this popular Mardi Gras event and make it the hit of your couples getaway! It's Mardi Gras, beach style. What does that mean? Just about anything you want it to mean! Come in your best ball gown or come in your favorite spiced-up Parrot Head attire.
Bring on the beads at the Gulf Shores Mardi Gras Parade, which dates back to 1978 when the locals declared the need for a Mardi Gras parade of our own. The group formed was known as the Pleasure Island Players and they are responsible for getting Mardi Gras off the ground in Gulf Shores.
The Orange Beach Mardi Gras Parade has been official for about a decade, with the Mystical Maids of Miram and the Mystics of Pleasure contributing to the event. And really, what's better than a parade on the beach? Typically, you can expect to see thousands of people gathered along the two-mile stretch of Perdido Beach Boulevard to catch their share of thrown treasures.
Nearby cities celebrating Mardi Gras include Fairhope and Daphne, and many visitors make their way to as many parades as possible. Fairhope and Daphne offer family-friendly parades and festivities. Packed with music, food and fun, visitors can also catch a stash of colored beads, moon pies and other goodies.
Big Beach Brewing Company is the perfect spot to meet up with friends after the Gulf Shores or Orange Beach parade. Grab a craft brew (made in-house) and catch up on the events of the day. Also, check out Red or White at The Wharf, a fabulous place to visit with friends and enjoy both Old World and New World wines, plus a full tapas menu.
With a little planning and coordinating of dates, couples can take in tons of Mardi Gras festivities in Gulf Shores, Orange Beach and the surrounding cities, creating the trip of a lifetime. Start planning now for Mardi Gras at the beach.