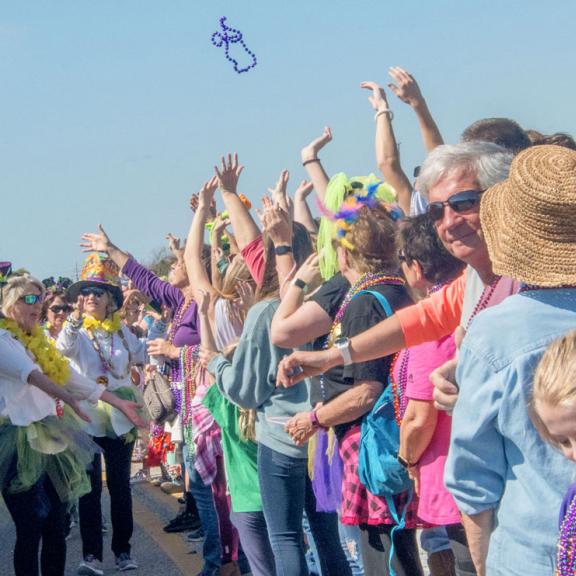 A Couples Getaway, Mardi Gras Style
Have you ever planned a getaway with your sweetie to Alabama's Gulf Coast during Mardi Gras season?
May 17, 2019
What fun it is when you let the good times roll! There's food, music and parades galore, and maybe some things you hadn't anticipated, too.
Nearby cities celebrating Mardi Gras include Fairhope and Daphne, and many visitors make their way to as many parades as possible. Fairhope and Daphne offer family-friendly parades and festivities. Packed with music, food and fun, visitors can also catch a stash of colored beads, moon pies and other goodies.
Big Beach Brewing Company is the perfect spot to meet up with friends after the Gulf Shores or Orange Beach parade. Grab a craft brew (made in-house) and catch up on the events of the day. Also, check out Red or White at The Wharf, a fabulous place to visit with friends and enjoy both Old World and New World wines, plus a full tapas menu.
With a little planning and coordinating of dates, couples can take in tons of Mardi Gras festivities in Gulf Shores, Orange Beach and the surrounding cities, creating the trip of a lifetime. Start planning now for Mardi Gras at the beach.