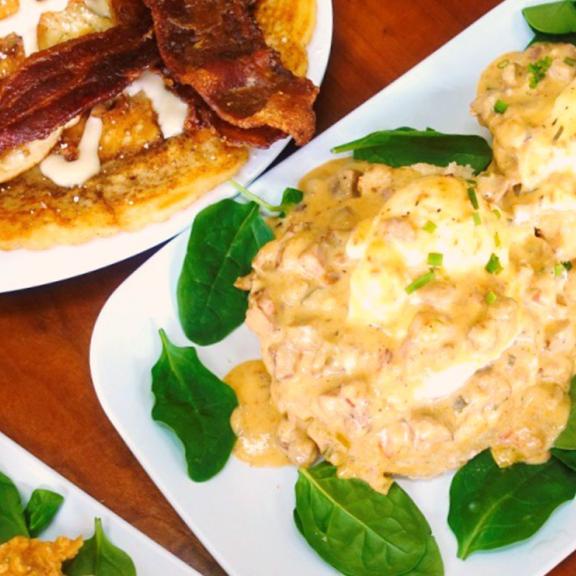 The Three Best Biscuits on the Beach
When you're in the South – you know you're going to be eating biscuits!
July 29, 2020
I'm already a biscuit fan – I consider myself the biscuits and gravy connoisseur of Cincinnati. That said, I had no idea what I was in for when I came to Gulf Shores and Orange Beach. Not only do they take their biscuits seriously – they all do them in so many different ways.
Sunliner's Does Square
We had biscuits each day of our visit and they were all so different! We started out at Sunliner Diner. It's a 50's throwback diner with a car inside and photo opportunities everywhere you look.
We ordered a few biscuits here – including the Glazed Cinnamon and the Bacon Cheddar (which also had a touch of Ranch). The Glazed Cinnamon had a sweet sauce and big, plump raisins, but the real star was that Bacon Cheddar Biscuit. It is a giant and dense biscuit, but the warm biscuit opened to the scent of bacon and sharp cheddar. That bacon cheddar is not to be missed.
The Ruby Slipper Does Toppings
The next morning, we went to The Ruby Slipper Café. It's a breakfast/lunch place and is based out of New Orleans. They have amazing biscuits. I even got to do a behind-the-scenes biscuit class with them. The biscuits are very traditional and simple. But what they put on top of the biscuits is anything but traditional.
They specialize in benedicts, and we tried a few of those. The tables' favorite was the Chicken St. Charles – a fried chicken breast on top of a buttermilk biscuit with two poached eggs and a tasso cream sauce. OMG! Seriously! And you get two of them.
I loved the day's special - biscuits and gravy benedict. It had a chunky sausage, pepper and onion gravy on top of one of those delightful biscuits and, of course, perfectly poached eggs. We were forced to wash it all down with mimosas. #TheStruggleIsReal
Catz, Coffee and Biscuits!
Finally – on our last morning – we headed to Buzzcatz Coffee & Sweets. They have pastries, quiche and biscuits. Their specialty is the CatHead biscuit. Why is it called a CatHead biscuit? Because it's about as big as a cat's head. The special of the day was a blueberry cathead covered in icing. We also tried a plain one, and they gave us this amazing jam the pastry chef makes in-house. It was delicious. I might have eaten every last bite of that jam. And yes, the chef can whip up a scratch-made "pop tart," too.
The next time you find yourself in Gulf Shores and Orange Beach for breakfast, stop by three of my favorite spots for a biscuit truly made in paradise.