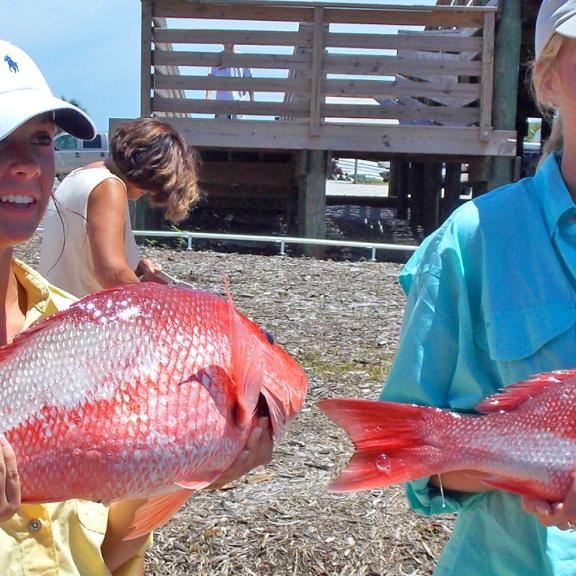 Charter Fishing: Not Just for the Boys
Sugar-white sand beaches aren't the only thing bringing visitors to Gulf Shores and Orange Beach.
August 5, 2020
The waters off the Alabama Gulf Coast offer some of the best fishing in the country. Thousands of inshore and offshore fish species provide anglers with year-around fishing. Today, you'll find more women are fishing and are discovering the thrill of casting a line here.
According to a 2017 special report published by Outdoor Industry Association and Recreational Boating & Fishing Foundation, 35.1% of all anglers are women. Women are the fastest-growing demographic in the market. Fishing is no longer an exclusive boys club. Many women, like myself, are getting out to fish on our own, with our children during family vacation, and with friends on girls' weekends. Once you experience the thrill of hooking and reeling in a large fish, you'll "be hooked" and want to do it again!
The goal of any fishing trip is to have fun and, of course, catch fish. Going out with a fishing charter provides you with the best opportunity to do that. A knowledgeable captain knows the area and can take you to the best spots where you're likely to catch the most fish. Crew members are on hand to help with tackle, bait, cleaning, etc. One simply has to bring themselves, food, and beverages. The charter captain and crew take care of the rest, including your fishing license.
On my last deep sea fishing trip, I went out for a half day with Captain Jimmy of  Ocean Ox Charters. He and his crew took our all-female group out for an action packed experience. A few in our group where first timers. Others were seasoned anglers, but the one thing we all wanted was to come home with "BIG fish stories." Every time we dropped a line, we'd hook a fish. Sometimes there would be two using multi-hook rigs. During our morning out, we caught 20+ pound Red Snappers, Amber Jack, and Mahi Mahi. To this day, we still talk about all the fish we caught and how one of our girlfriend's earned the nickname of the "Fish Whisperer."
One of the biggest benefits of hiring a charter is that the crew caters to any kind of group (ours included). As a mother, I'm often the one who coordinates everything for my entire family. It is really nice to be able to just show up at the boat. The captain takes me where I need to be and the crew took care of all the details. I can then gather with girlfriends for a fun time on the boat doing what we enjoy.
No matter what type of fishing you like to do, you'll find it here in Gulf Shores and Orange Beach. A fleet of 100+ fishing charters can be found in the area. This is the largest in the Southeast ranging from inshore to deep sea fishing charters. If you've never been on a charter, here are a few truths and things to consider about Alabama Charter Fishing. Check those out, vacation rentals, local events, and more on GulfShores.com to get started planning your next fishing trip.