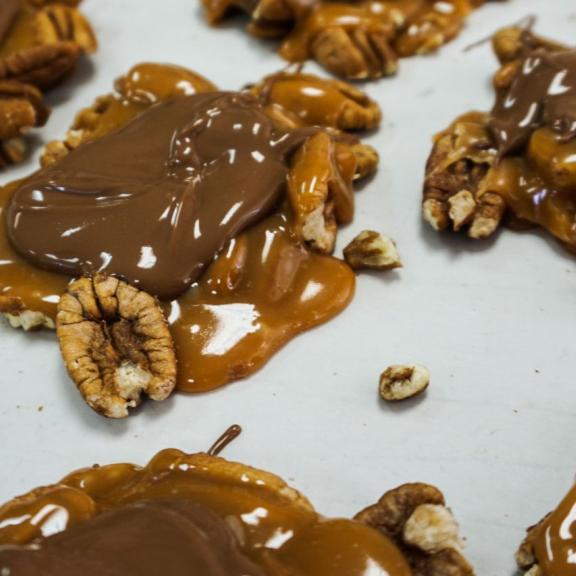 Bites & Brews on Alabama's Coast
Gulf Shores and Orange Beach Coastal Crafters Series
April 9, 2020
Deliciously sweet treats, cold craft brews and cocktail-flavored coffees are some of the items our Bites & Brews Coastal Crafters are whipping up in Gulf Shores and Orange Beach. If you're out exploring the destination and looking for a souvenir for your foodie friend, visit one of these locally-owned establishments and shop, eat and drink (in moderation) 'til you drop!
Big Beach Brewing Company
Big Beach Brewing Co. has been serving coastal-inspired craft brews to both locals and visiting patrons since 2016. With 12 beers on tap at all times ranging from pale ales and lagers to IPAs and sours, there's something for everyone at the first and only brewery on the island. Their tank to tap operation ensures that each beer tapped from their kegs is the freshest it can be. Truly a local operation, the founders, Jim and Julie Shamburger were brewing underneath their stilted house and in their basement for eight years when friends and family encouraged them to open the brewery. And, thus, every local's favorite watering hole was born, and we've been drinking local beers ever since! Don't forget you can take some Big Beach home with you in one of their 32 oz crowlers. 
Chocolate Corner
Real butter fudge, gourmet truffles, pecan caramel paws…is your mouth watering yet? Sweet treats and high-quality service are the name of the game at Chocolate Corner in Gulf Shores. Each item at Chocolate Corner is made fresh daily with recipes that have been passed down or created out of random inspiration. Owner Todd Nelson is a long-time native of the destination. In fact, his family was one of the founding families of the island back in the 1800s. If you stop into the shop on your visit to Gulf Shores and Orange Beach, be sure to get a Creamy Turtle. That's one of our personal favorites!
Kayden's Candy Factory
We love our families here on the Alabama Gulf Coast, and this family-owned business has the cutest story of how it got its name. Kayden, the son of the owner, like many children, was angry after being refused dessert because he did not finish his veggies. Later that night, he tip-toed out of his room and found the boxes of chocolates his dad had been hiding away. Caught chocolate-handed, Kayden's dad couldn't help but laugh that his son had found his secret stash and decided to name his new business venture after him. At Kayden's Candy Factory, you'll find the delicious handcrafted chocolates young Kayden couldn't keep his hands off of as well as homemade ice cream and a huge selection of truffles. 
Southern Shores
There's nothing quite like finding the perfect local coffee shop when you're on vacation. Southern Shores is a locally-owned business born out of the owners' love of finding unique shops and coffee when on vacation with their family. This artisan coffee roaster sources responsibly grown beans from all across the world and roasts them to specific profiles that bring out the eclectic flavors of each bean. Visitors can stop into their shop in Gulf Shores for a freshly brewed cup of joe and to grab a bag of their flavored coffee beans for yourself or a friend. One of their most infamous flavors is the Bushwacker. The original Bushwacker is a notorious cocktail found at nearly every bar in the destination. Southern Shores found a way to capture the flavors found in the cocktail to make a full-bodied, strong coffee that has everyone talking. Pro tip: mix your Bushwacker brew with a sweet cream creamer for the ultimate breakfast desert.   
Be on the lookout for the next blog in our Coastal Crafters series! We'll be covering some of our talented Fine Arts creators.