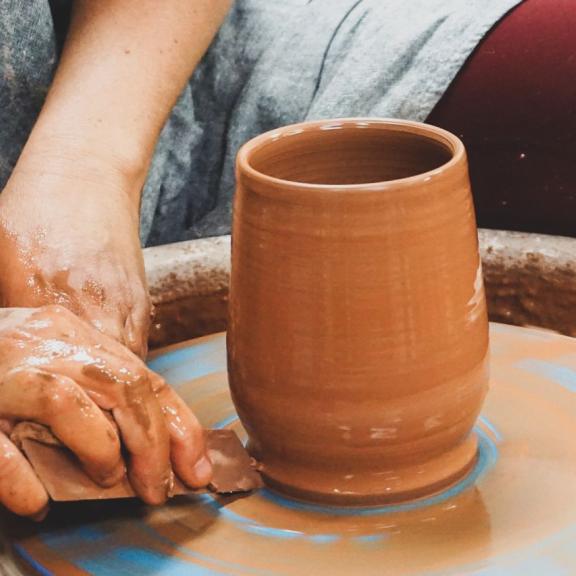 Fine Arts on the Alabama Gulf Coast
Gulf Shores and Orange Beach Coastal Crafters Series
March 12, 2020
Art abounds along Alabama's beaches with our Fine Arts Coastal Crafters. From clay creations to blown glass and gorgeous galleries, art aficionados have much to explore and purchase when visiting the destination. These Coastal Crafters are locals who pride themselves on creating pieces that showcase not only their talent but the beauty of Gulf Shores and Orange Beach.
Gulf Coast Arts Alliance (GCAA)
The Gulf Coast Arts Alliance is a one-stop-shop for finding local art. Housing pieces from more than 50 local and regional artists,  GCAA is a membership organization whose sole purpose is to showcase and expand fine arts in Coastal Alabama. Not only can GCAA visitors purchase art in their gallery but they can also book a variety of classes with resident and visiting artists.  
Pottery Central
With more than 30 years working in the destination, Steve Dark has become a staple in the local arts community. His art studio and gallery, Pottery Central, is one of the many places you can purchase one or more of his pieces. Dark is most well-known for his eclectic clay creations some of which he has buried in the back bays to collect barnacles and other natural coastal embellishments. 
Sea Oat Studio
Steve and Dee Burrow are two other well-known local artists. The Burrows specialize in wood-fired and electric-fired stoneware pottery and sculptures. Sea Oat Studio is where they both create and sell their coastal-inspired pieces. You can find one of their clay coffee cups in nearly every kitchen cabinet in Gulf Shores and Orange Beach. Stop by to get like a local and snag one of your own.
The Clay Studio
Located on the grounds of the recently renovated Coastal Arts Center of Orange Beach, The Clay Studio is the home of ceramics artist Maya Blume-Cantrell. She not only creates and sells her art but also teaches clay throwing, hand building, pick 'n' paint and various other pottery classes. Maya's husband Nick is also an artist so you will definitely want to check out their combined creations for something super unique.
The Hot Shop
Last on the list is The Hot Shop. Also located at the Coastal Arts Center, this is Alabama's premier glass blowing facility. The Hot Shop is open from 9am-5pm on weekdays so guests can drop in and watch artist Kerry Parks and her team create beautiful works of glass art throughout the day. They also offer "Make Your Own Glass" classes on weekdays at 9am. To purchase a piece created at The Hot Shop, visit the facility or the gallery in the Arts Center.
Be sure to come back to our blog next month to read about our last set of Coastal Crafters – Other Specialty Items.