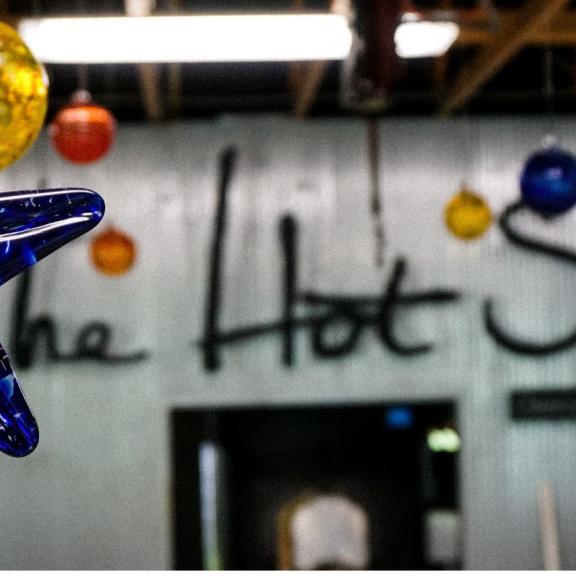 Get it Local: From Souvenirs to Seafood
Did you ever wonder just what it is about the Alabama Gulf Coast that keeps you coming back again and again? We'll give you a hint - it's not just the beautiful beaches.
July 28, 2020
Our coastal community's unique vibe is all thanks to an abundance of natural resources - waters brimming with fresh seafood, fertile lands perfect for produce, and an artistic culture that defines the Gulf Coast lifestyle. Which is great, because when you shop local, you're not only getting a true taste of the area, you're supporting it, too! 
From delicious eateries that use local ingredients to art experiences that let you make your own piece of paradise, there are plenty of ways to experience the local wonders - and then take them home with you. The next time you stop into the Gulf Shores and Orange Beach, be sure to check out these locally sourced foods and finds!
This public glass studio offers classes, workshops, and demonstrations for DIYers. You can watch local artists turn molten glass into beautiful works of art - or roll up your sleeves and make some of your own! There is also plenty of handcrafted art for purchase in The Hot Shop and around the Coastal Arts Center so you can take a piece of our local culture home with you. 
In this signature experience, you'll create your own bath, body and home products from your choice of hundreds of chemical-free ingredients. Salt scrubs, fragrances, lotions, even pet products - no matter what you choose, you'll take a piece of beach relaxation home with you when you go.
Southern Shores is an artisan coffee roaster - and the only coffee shop at the beach that roasts their own responsibly sourced beans. They are best known for their famous Bushwhacker coffee, which captures the flavor of the area's iconic milkshake cocktail. The shop offers bags of their specialty mixes for purchase so you can take the taste of roasted beach coffee beans home with you. 
Hope's Cheesecake is a gourmet dessert bakery that's been making delicious handcrafted cheesecake since 1996. Their cakes come in more than 30 different flavors that are made onsite in small batches with quality local ingredients like farm-fresh eggs, pure cane sugar, and homegrown lemons. A special crust recipe gives these cheesecakes a unique sweetness that can only be found in this local Alabama bakery (though they'll ship them to you, too). 
Sip the taste of the south at this Big Beach Brewing Company. It's locally owned by a native Gulf Shores family and creates tasty beers onsite in a 10-barrel brewing system. It's a popular spot for local beer lovers, but their handy 32-ounce growlers let you take a brew with you when you go!
Kayden's Candy Factory puts Willie Wonka to shame with its large selection of homemade treats to satisfy your sweet tooth. Candies, ice cream, gourmet truffles - they're all delicious, and many of them are made right in-house. Don't miss your chance to indulge in a taste of southern sweetness!
Many of our restaurants feature fresh locally-sourced seafood, but the Original Oyster House takes it a step further with its homemade sauces. Called Joe & Daves, these yummy sauces and seasonings include a tasty garlic sauce and their famous Ya-Ya seasoning, which adds a taste of Cajun spice to your seafood. Be sure to stop by the gift shop to purchase a bottle to take home with you! 
LuLu's, Lucy Buffett's full-scale restaurant and entertainment spot, offers a variety of locally-prepared sauces and seasonings you can purchase in their gift shop or online. With funny names like Clearly Crazy Sauce and Crazy Sista Bloody Mary Mix, these unique products are both a talking piece and a delicious taste of the Gulf.