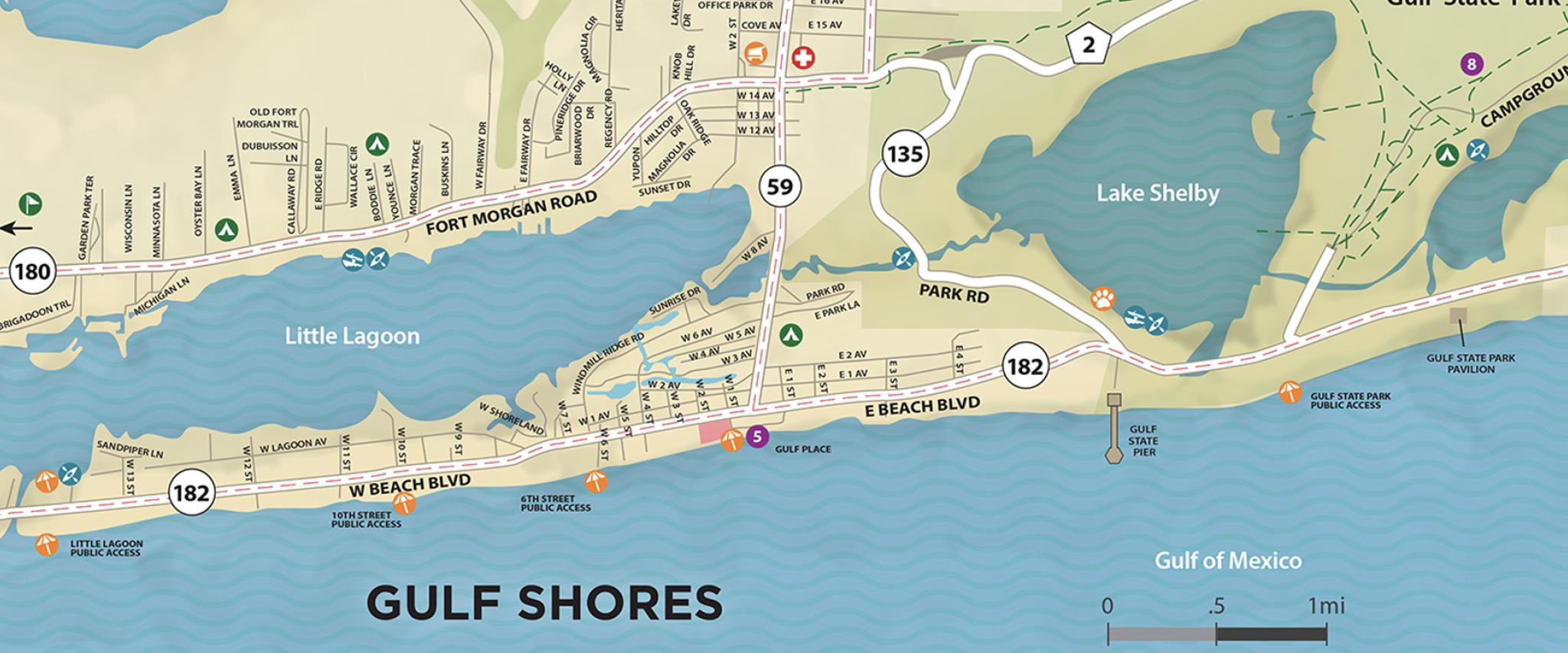 On the Road Again: Travel Tips for Your Driving Vacation
Many travelers headed to Gulf Shores and Orange Beach are driving from somewhere north of Alabama's Gulf Coast.
December 18, 2018
Stops along the way are good for snack-buying and leg-stretching, but vacationers may not be aware of them or the short cut (Beach Express) that is sometimes overlooked. Don't fret, though – read on for tips that could make your driving vacation much smoother.
Take the Baldwin Beach Express and save some time – it's your ticket to the fastest route to the sand and sun. Originating at I-10 (exit 49), the Baldwin Beach Express ends on Canal Road in Orange Beach. Be prepared for the toll bridge at the south end of the expressway. You can pay with cash, credit card or debit card. The rate fluctuates between $2.75 and $3.50 per two-axle vehicle.
Alabama has welcome centers close to the state lines and rest areas along I-65. These are great places to stretch your legs, take a restroom break and walk dogs. You can also pick up a Vacation Guide in the state welcome centers. Gulf Shores Welcome Center is just north of the Intracoastal Waterway Bridge on Highway 59 (Gulf Shores Parkway). Open seven days a week (8am-5pm), friendly staff can help with planning, brochures, coupons, local events and maps. Note: The welcome center is closed on Thanksgiving, Christmas Eve and Christmas Day.
Around the Fort Deposit exit of I-65, look for Priester's Pecans, a fantastic place to stop and use the restroom, grab snacks and walk around a bit. They offer a large café and gift shop with a huge variety of candied pecans, of course, as well as fudge, ice cream and other treats and drinks.
Make use of phone apps. Waze and Gas Buddy are two good apps that come in handy when traveling. Waze offers turn-by-turn navigation as well as road information and detour suggestions. Gas Buddy shows the closest fueling stations and allows drivers to see pricing for comparison.
Use these tips to ensure a fun road trip for your traveling bunch. Stay safe - and please, no texting while driving!