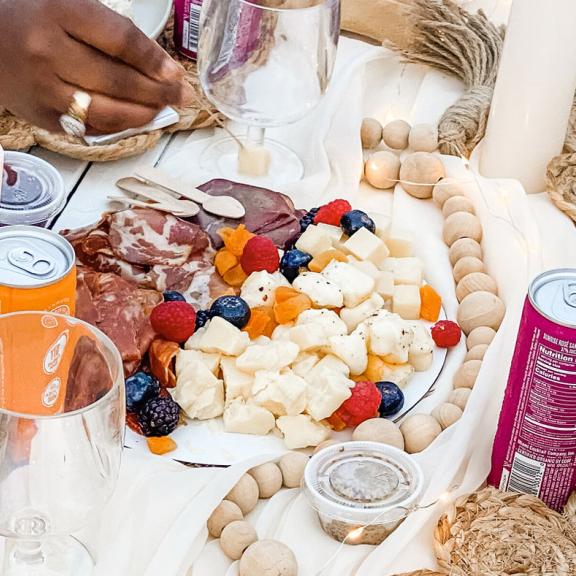 Posh & Luxury Beach Picnic Ideas in Gulf Shores & Orange Beach
Posh beach picnics are extraordinary culinary events complete with stylish decor, custom seating, umbrellas, tableware, and more. Book a posh picnic today!
October 22, 2021
It doesn't get better than a beachfront picnic. You can enjoy your favorite snacks under sunny skies as you're serenaded by the rolling waves, with nothing on your hands but time, tasty treats, and tan lines. Al Fresco has never been so amazing!
Picnics on the beach are hardly a new concept, but they've recently seen a trendy new twist. A wave of companies across the Alabama Gulf Coast are now offering pop-up picnics, a luxurious new take on the original dining experience. These posh beach picnics are far from the old blanket and icebox method - they're extraordinary culinary events complete with stylish decor, custom seating, umbrellas, tableware, and any number of other fantastic features.
These new and notable picnic experiences are perfect for groups and events of all sizes. Beach visitors have booked these premium picnics for proposals, birthdays, anniversaries, date nights, engagement parties, and more.  Best of all, there's no preparation or after-party work required - you simply book your date, confirm your details, and arrive ready to enjoy an amazing picnic experience. 
Perfect Beach Picnic Pairings
While these premium beach picnics are designed to dazzle you, most of them don't include your meal. The good news is, it's easy to find specialty foods that create a meal worthy of the atmosphere!
The Pantry at The Wharf is a gourmet provisions shop specializing in perfect picnic foods like chicken salad, pimento cheese, shrimp salad, hand-made desserts, and other grab-and-go selections. You can even call ahead and order a meat-and-cheese charcuterie board to charm your picnic guests!
Orange Beach Concierge is also a great choice for picnic catering. Chef David Pan offers personal chef services and can prepare unique menu options for bridal parties, family reunions, or other large groups looking for a delicious dining experience. 
Don't miss a stop at the Chocolate Corner for delish delights to add to your beach picnic. The selection of decadent truffles is the perfect addition to your beachside soiree. 
If you want all of the picnic but none of the preparation, consider calling The Beach Moms. This full-service concierge service can handle every detail, from contacting the picnic company to arranging your catering to reserving a ride and more.