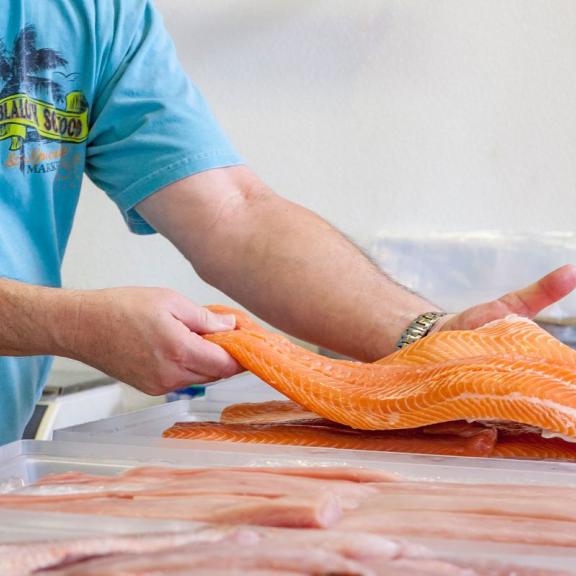 12 Cool & Unique Specialty Foods
Gulf Shores & Orange Beach
January 18, 2023
Trying new food and drinks is one of the best parts of vacationing, and here on the Alabama Gulf Coast, we have so many great places to get a taste of the beach. While you're here, you'll discover a variety of cool and unique specialty foods and drinks in the area. Enjoy them during your trip, or bring back tasty gifts for friends and family to snack on!
The Pantry at The Wharf
Head to The Pantry at The Wharf. This quaint shop offers delicious pre-made meals created by Chef David Pan, a Le Cordon Bleu French-trained chef. The Pantry also offers fresh pastries and desserts, breakfast, and French-inspired deli sandwiches. Grab a few snacks from the shelves and a drink from the fridge, and you've got the perfect picnic meal! 
Murder Point Oyster Co. 
Murder Point Oyster Co. offers some of the freshest oysters around. This family-owned business raises their oysters in Gulf waters, giving them a full, rich taste with a buttery finish. If you've never tasted oysters from the Gulf Coast, stop by Murder Point and pick up an order!
The Yard Milkshake Bar
Sip on a specialty milkshake at Yard Milkshake Bar. These giant, creamy creations aren't your typical milkshakes, as toppings range from cookie dough and donuts to brownies and cheesecake slices. Order one of their signature shakes like The Mermaid or Green Mint Monster, or make your own. A shake from The Yard will definitely satisfy your sweet tooth and help you beat the Southern heat.
House of Jerky
House of Jerky at The Wharf is a must-stop for jerky loves. In addition to traditional jerky, this spot offers dozens of rare flavors such as alligator, swordfish, salmon, and shark jerky. If you're not a meat lover, grab a bag of their pineapple jerky or try one of their vegan varieties!
Big Beach Brewing Company
There's nothing like cracking open a cold one while relaxing by the water. Big Beach Brewing Company crafts its beers in a 10-barrel brewhouse in the heart of Gulf Shores. Whether you prefer your beer hoppy, light, or malty, you can find the perfect brew here. Be sure to pick up a six-pack to take the taste of Alabama's beaches back home with you.
Chocolate Corner
You can never have too much chocolate, especially on vacation. Chocolate Corner in Gulf Shores hand makes its specialty chocolate every day. Choose from fudge, pralines, truffles, turtles, clusters, and more sweet treats. Their shell and starfish-shaped chocolates make great gifts!
Save room in your suitcase for these yummy snacks and treats, and start planning your visit to Alabama's beaches today!