Big Beach Brewing — Where Beach Meets Brew
Gulf Shores & Orange Beach
December 17, 2018
Family-friendly Gulf Shores and Orange Beach might not be the first place you'd consider for a microbrewery business, but when a family with deep roots in the area makes a great brew, the whole thing makes sense.
Great design only works with great product. Jim's son, Ryan, who came home to help with the opening, assisted in this part of our visit. He proudly shared how his family got into the brewing business and the different microbrews they make. He explained that they don't have a food-service license, and don't intend to get one. Rather, they have partnered with local restaurants who deliver right to Big Beach Brewery; just order from the handy menus at the bar. They intend to be a cornerstone of the Waterway Village District — and working with other nearby businesses, they are well on their way.
We talked brews for a while, which is what you do at a brewery. Right? And then he prepared a flight based on what I like about beer (which is not much, to be honest).
WAIT! Don't go. This is a cool story!
It's true, I toured Big Beach Brewing even though I don't like beer! But the story of this place was compelling. Ryan never flinched – he was up for the challenge of finding the one brew I'd enjoy. He prepared a flight of pale ales, which most non-beer drinkers seem to enjoy. They weren't for me — not because they're bad, but because they had "the flavor" I just don't like in beer.
Ryan was undaunted. He asked me to explain what I didn't care for, and I described the grassy taste. He chuckled and suggested I try a less hoppy beer. He poured a glass of a darker ale, the Small Town Brown. I suggested a small taste, but he poured a full glass. Confident guy!
Small Town Brown has more malt, with hints of chocolate and toffee, and…well…it's spectacular! A wonderful beer. Ale, really. Smooth with no hoppy taste. Perfect for sipping after a long day at the beach.
Beer in hand, we went to the back where the magic happens. Ryan explained how they source their ingredients and the process of brewing. It's a careful science, maybe well-suited to the detail-oriented dentist.
From there, we headed outside and upstairs to the deck that overlooks the neighborhood. I could have stayed for hours, sipping my ale and watching the sun set across the road behind Tacky Jacks. Even though the brewery sits on a busy street, being upstairs looking out over the trees, I felt more like a big kid in a giant treehouse.
But I couldn't stay for hours. I had dinner reservations elsewhere.
Big Beach Brewing nailed it. The design is spot-on for the neighborhood. Go for the beer, but stay for the fun. Watch games on the big screen TVs, play games out front, hang out on the upper deck or relax by the fireplace. Take the kids and order dinner from nearby restaurants. Beach meets brew — and the result is fabulous!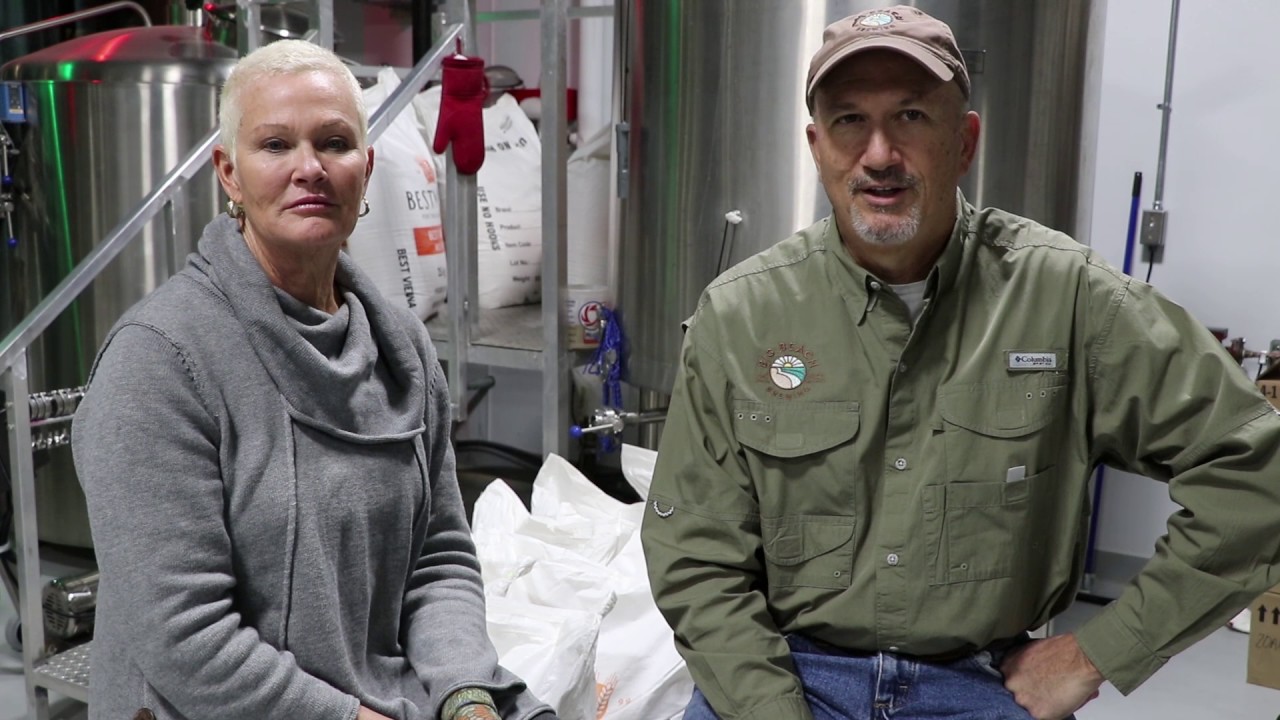 Jim & Julie Shamburger: This is OUR Gulf Shores and Orange Beach