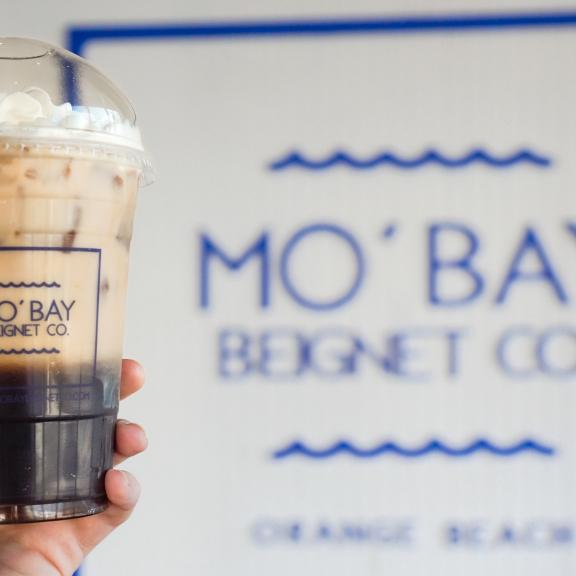 The Best Coffee Drinks
Gulf Shores & Orange Beach
February 6, 2023
Change can be good, especially when it comes to your coffee. Your standard breakfast brew may wake you up, but it may not be stunning you with its full, fantastic flavor. As one of your first drinks of the day, shouldn't it also be the most delicious?
On the Alabama Gulf Coast, we care about our coffee. Our area is full of unique, locally-owned coffee shops specializing in craft blends and specialty drinks. Before spending a full day of fun on the beach, grab one of these tasty coffees!
Mo'Bay Beignet at The Wharf curates their coffee to perfectly pair with their sugary beignets. The pecan praline coffee is locally roasted and freshly brewed and offers a sweet and bold flavor. Order a pecan praline cold brew and add Mo'Bay's house-made buttercream signature syrup. Don't worry! You can purchase a bag of coffee and a jar of syrup to take back with you to make this delicious drink at home.
If your day is jam-packed with exciting activities, you need a caffeine boost to keep you going. BuzzCatz Coffee & Sweets in Orange Beach serves all the classic brews like lattes, macchiatos, and mochas, but we can never get enough of their cappuccino. You'll get the energy you need from a cup of this espresso-based goodness. Pair it with a Cat Head biscuit or BuzzCatz "PopTart" for a perfect beach breakfast.
The Southern Grind's delicious Nitro Draft will change how you think about cold-brewed coffee. It's infused with nitrogen gas using a pressurized valve and dispensed through a draft system. The result is a smooth, rich, and clean coffee with a creamy feel and a foamy top you would expect from a stout. Speaking of stouts, you can also try their Dublin cold brew, which adds Guinness to this iced coffee concoction. 
With so many delicious coffee drinks out there, it's hard to choose just one. Thankfully, High Tide has created a solution to this delicious dilemma. This waterfront restaurant serves coffee flights allowing you to sample four of its tasty iced coffees. With flavors like smores and cinnamon roll and rotating seasonal offerings, the coffee flight is the answer for indecisive coffee lovers!