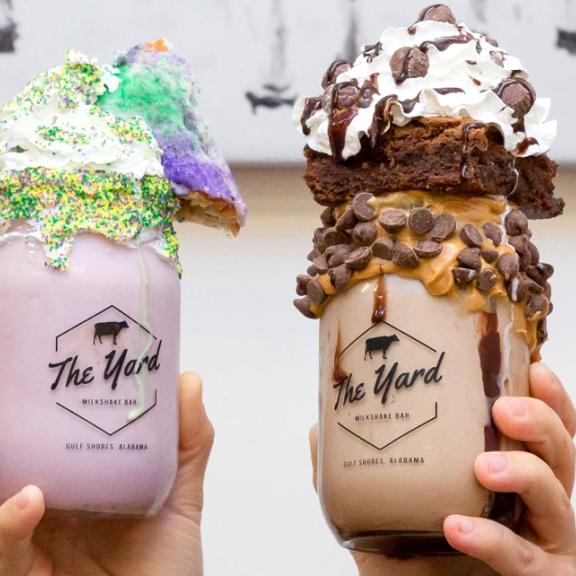 Sweet Treats
That'll Bring Out the Kid in You
Part of the Beach Bites Series
June 1, 2021
When you just can't satisfy your sweet tooth, it's time to visit Gulf Shores and Orange Beach. Here, you'll find all the right combinations of sugary, creamy, crunchy, decadent treats. Come for the beach and stay for dessert as we take you on a tour of some of the beach's most iconic sweet treats - and some new ones, too!
Matt's Homemade Alabama Ice Cream
Let's continue on this journey of sweet treats with a stop at Matt's Homemade Alabama Ice Cream. Matt's ice cream hails from Old Dutch Ice Cream Shoppe in nearby Mobile, where the family-run creamery churns out time-honored flavors and new tastes, too. Did someone say salted caramel? It's a must-try! Get your ice cream piled high with toppings or devour it in its natural state. Either way, your sweet tooth will leave satisfied.
Café Beignet
What dessert could possibly make you feel like a kid again than a big, powdery cloud of powdered sugar? Sink your teeth into an airy beignet at Café Beignet in Gulf Shores or Orange Beach. That's right, there are two locations to choose from, so you're never far from a tempting treat! Order your beignets filled with a creamy pudding or topped with chocolate sauce, or enjoy them in their traditional state: coated in loads of powdered sugar. Takeout is available, but get there early as the café closes at noon.
BuzzCatz Coffee & Sweets
A trip to BuzzCatz Coffee & Sweets will definitely bring out the (sophisticated) kid in you. Relive the days of staring into the glass dessert case as a kid and picking out the cinnamon roll with the most icing. BuzzCatz has its very own pastry chef who bakes up made-from-scratch treats every day. From homemade pop tarts to flaky pastries, you'll find a sweet treat for an afternoon sugar rush.