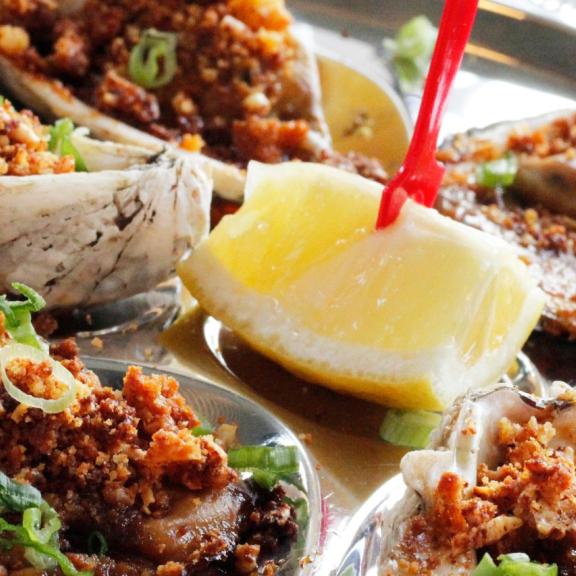 How a Seafood Skeptic Learned to Like Oysters
I grew up in upstate New York. After college, I moved to western New Jersey. I was not a big beach person (I love to snow ski), and I never spent much time anywhere near fresh seafood.
February 24, 2020
My family didn't eat seafood, unless you count canned tuna. As I got older, I started branching out and found that I like shrimp and salmon, but never found a fondness for any of the "fishier" fish. And, I definitely had no interest in oysters, clams, crab or lobster.
I admit I was a little apprehensive about the restaurants in Gulf Shores and Orange Beach, and what my food options might look like. The area is known for its amazingly fresh seafood. Would I find some regular old chicken and steak on the menus? At least I knew I would like one item: shrimp and grits sounded safe enough for my non-seafood-seasoned palette.
Here's something no one tells you. Once you spend a little time on the Alabama Gulf Coast, the beach vibe is infectious. Going out to dinner, it somehow felt wrong to order steak at the beach. I dipped my toes in the seafood waters and tried blackened grouper. It was delicious. 
But, my friends were raving about these "Murder Point" oysters. I learned that the famous Murder Point oysters thrive in the unique conditions off Alabama's coastline and are some of the best you'll ever eat. 
Oysters, though? Was I that adventurous? They're slimy, rubbery and quite often raw. I didn't know if I was ready to take that step. 
Then, we sat down at the beautiful marina at Fisher's Dockside in Orange Beach. Our server brought out a gorgeous looking plate of Cajun Roasted Oysters. OK, these oysters were cooked. And covered in breading and spices. If there was ever a time to try them, this was it.
After a bit of instruction from my friends – how exactly do you get the oyster out of the shell? - I had the slimy little guy in my mouth. I chewed. Don't chew too much, they told me. I swallowed. I did it. 
It tasted... good. I won't tell you I loved it, but the oyster tasted better than I thought it would and the "slimy" factor wasn't nearly as I expected. 
Once I had successfully tried my first oyster, I wanted to continue experimenting. And my next experience was about as far from a roasted oyster as you could get. 
I hopped on a boat to check out a local oyster farm. It was fascinating to learn how oysters are raised. I didn't even realize they had to "grow" from baby oysters! But our guide, explained their process, and pulled up some oysters to demonstrate how to know when they are ready. They even taught me how to shuck an oyster and let me slurp it up – fresh out of the bay!
And I loved it. The experience of tasting an oyster, raw and at the pinnacle of freshness, helped me overcome any aversion I might have had. It was tender, salty and creamy.
Since that day, I've tried a few more oyster variations in Gulf Shores and Orange Beach. Some of my favorites are at The Royal Oyster in Gulf Shores, where I sampled a variety of raw and roasted. I think the Chipotle Bourbon was my favorite.
Now, instead of describing oysters as "slimy and rubbery," I describe them as briny, salty and creamy. And I look forward to expanding my oyster palette every time I visit the Alabama Gulf Coast!