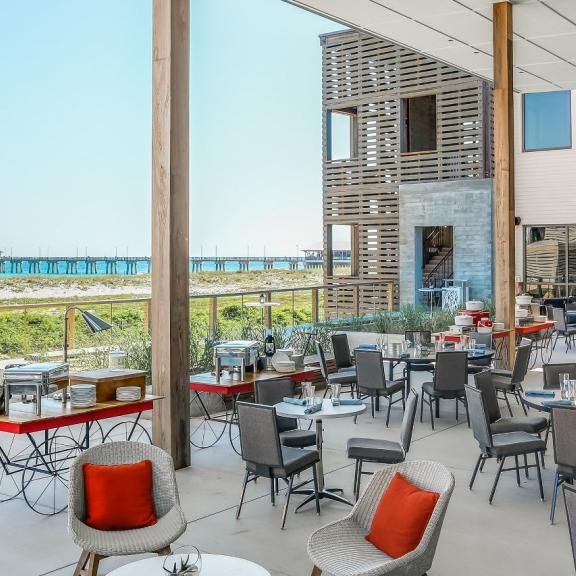 Why Go Sustainable at Your Next Meeting?
Trying to make everyone happy during your meeting can be difficult.
Choosing the perfect food, the perfect venue, the perfect anything . . . WE GET IT! In a world of social media, online reviews, and the ability to post anything at any time, the pressure on a planner is high. 
Have we stressed you out? Sorry. But here is the GOOD news: WE ARE HERE TO HELP! A meeting on Alabama's gorgeous beaches should be fun. After all, this is a workcation we are talking about (yes, a combination of work and vacation), so let's have a good time with it!
Choosing a Sustainable Venue in Gulf Shores & Orange Beach
Give an interesting presentation indoors or outdoors at The Lodge at Gulf State Park and WOW your audience with amazing views of the beach. This will surely have your attendees snapping and posting pictures on their social media platforms, thereby increasing coverage and awareness of your event. By the end of the meeting, you will know that your attendees had a great time at the beach. 
The Learning Campus at The Gulf State Park is another great venue to host your meeting. Offering day and night programs, your attendees can at the park making it a great all-in-one-place for your attendees. Stay on-site in the bunkhouses at the Learning Campus or at the Eagle Cottages – part of National Geographic's Unique Lodges of the World. Have a little fun with the hands-on field games and learn about the natural environment along the Alabama Gulf Coast from one of the trained naturalists. 
For more information and options for planning your sustainable meeting, contact the Gulf Shores and Orange Beach Meetings team or sign up for our newsletter to receive monthly pro tips and learn about planning a meeting on the Alabama Gulf Coast!