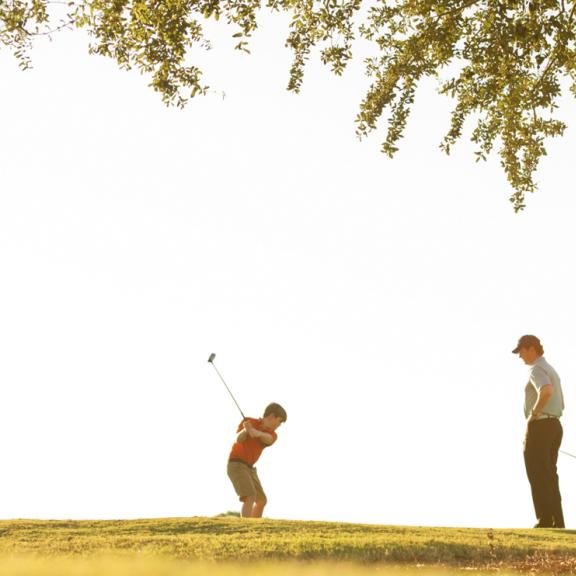 The Best of Family Golf in Gulf Shores
It's great when vacations include activities and attractions the whole family can participate in - like golf, for instance.
November 12, 2018
Ideal for those with a competitive family spirit, golf is a challenging yet rewarding sport that even the younger family members can play. Gulf Shores has some great spots for junior golfers to practice and play, and some even offer special deals for families to play together.
Orange Beach Golf Center and Driving Range is an excellent practice facility for every golfer in the family, no matter the age. Work on your game at the lighted driving range, check out the practice putting/chipping greens and practice sand bunker, and take a look inside the pro shop. Ball dispensers are self-serve at $3/bucket with 34 balls in a bucket, and 30 grass tees and 10 covered mat tees are available. Take your game from the driving range to the 9-hole, par-3 course and enjoy some family golf time.
Kiva Dunes PGA pro Rea Schuessler offers lessons for junior golfers. He cautions parents to have realistic expectations for their child or teen golfer, realizing that attention spans are different depending on age. Also, be aware they need proper equipment sized to fit their bodies.
Many Gulf Shores courses offer clinics and camps for junior golfers. One such course is Craft Farms, where they include daily lessons, snacks and lunch, on-course play, drills and etiquette discussions. Craft Farms also offers special deals when you are playing golf as a family: Juniors golf free when playing with a paying adult, and they can enjoy complimentary rental clubs all day and receive complimentary instruction when taking a lesson with a paying adult. (Please note that juniors are defined as golfers 17 years of age and under. Golf lessons must be taken together with the same instructor. Some restrictions may apply, and the program is based on availability and valid at participating facilities.)
Have a favorite golf course on the Alabama Gulf Coast? Call them and ask about family golf specials or deals for junior golfers. Often these aren't advertised or even on the website, so always inquire. Enjoy time as a family while playing a wonderful sport for all ages.