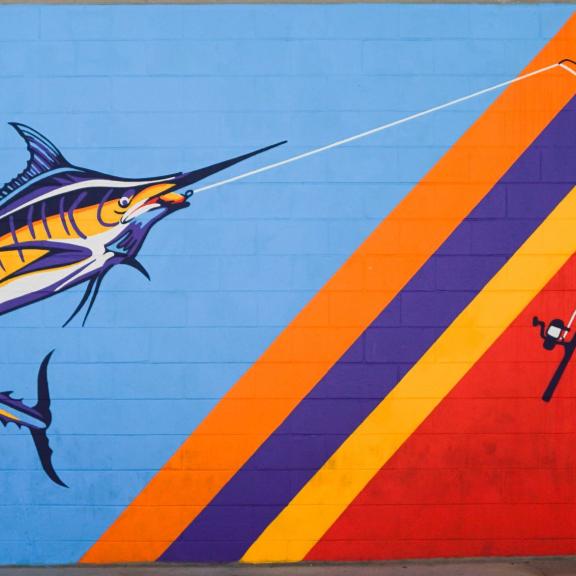 Your Guide to Murals
In Gulf Shores & Orange Beach
July 31, 2023
The Alabama Gulf Coast is home to so many exceptional photo spots. From beautiful beaches and unique attractions to one-of-a-kind restaurants and landmarks, there are plenty of opportunities to take the perfect Instagram picture while here. If you want to explore the area and snap a few memorable photos, we suggest checking out the incredible murals along Alabama's beaches. These murals show off the talents of local artists while offering an inside look at the culture of Gulf Shores and Orange Beach. We've done all the hard work for you and compiled a list of the best murals in the area and their locations! 
2. Cosmo's
Dog lovers have to visit Cosmo's in Orange Beach. This restaurant is a local favorite for its fantastic food and dog-friendly atmosphere. Inside, you'll find canine-inspired art covering the walls, but it's the mural outside you don't want to miss. Cosmo's fun and fabulous mural features dogs (and even a cat) enjoying a day at the beach. You'll want to take your pup along with you to snap a photo in front of this artwork!
4. Hog Wild Beach & BBQ
If you're craving finger-licking barbecue, savor a plate or two from Hog Wild Beach & BBQ. Not only does this Gulf Shores spot serve delicious food, but it has a cute and colorful outdoor mural. Grab a pulled pork sandwich or brisket tacos and strike a pose in front of the playful surfing pig.
6. Orange Beach Store
Show off your love for the beach by picking up something from The Orange Beach Store—shop hats, T-shirts, sweatshirts, drinkware, and other coastal-themed items. Once you've found the perfect gear, snap a pic with your bag in front of the store's mural. For a really beachy photo, throw on one of the new pieces you bought.
8. Cobalt
Diners at Cobalt will notice an eye-catching wall outside of the seafood restaurant. This piece of art captures everything that makes the Gulf Coast such a wonderful place, from our gorgeous beaches and unique wildlife to the local music scene and the iconic Blue Angels. Take a moment to admire this impressive mural next time you're there!
10. The Wharf
The Wharf is your one-stop shop for shopping, dining, entertainment, and fabulous art! You'll find more than one vibrant mural here, but our favorite is located on the side of the Pepper Palace, near the Ferris Wheel. It perfectly captures the fun of vacationing on Alabama's beaches. You'll want to take a moment to pose in front of this colorful wall.