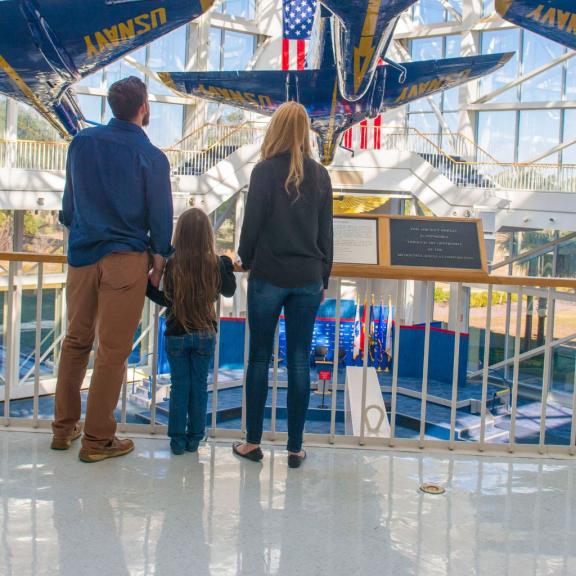 A Day Trip to Pensacola
Gulf Shores & Orange Beach
Explore more of the Gulf Coast with a day trip to Pensacola from Gulf Shores and Orange Beach. 
February 27, 2023
The Gulf Coast is a beautiful destination, no matter where you are! If you have some extra time on your hands during your stay on Alabama's beaches, we encourage you to take a quick visit to our wonderful neighboring Florida city, Pensacola. 
 
Here are some of the best things to do while visiting Pensacola.
The Pensacola Lighthouse and Museum is an excellent spot for an incredible view of the Gulf Coast. This historic lighthouse was built in 1859 and is located at the Naval Air Station. Onsite, you'll also discover the lighthouse keeper's quarters, history of illumination exhibit, oil shed and reading room. Learn all about the lighthouse's history and its significance to the city of Pensacola's progress throughout the early days of America. You may even spot the Blue Angels soaring past you as you look out onto the water from the top of the lighthouse.
While you're in the area, you'll want to catch the Blue Angel's mesmerizing flights during one of their many practices throughout the year. You can watch their practices from the viewing area onboard Pensacola NAS. However, you might spot these impressive airplanes from our beaches as they soar above the water. The Blue Angels Beach Air Show takes place on July 8. In the fall, the Homecoming show takes place on November 3-4, also on Pensacola beach. Both shows are open to the public. Visit our website for more information about upcoming practice dates and shows.
Planning your next trip to the Alabama Gulf Coast? Learn more about all the great things to do and see in our area.