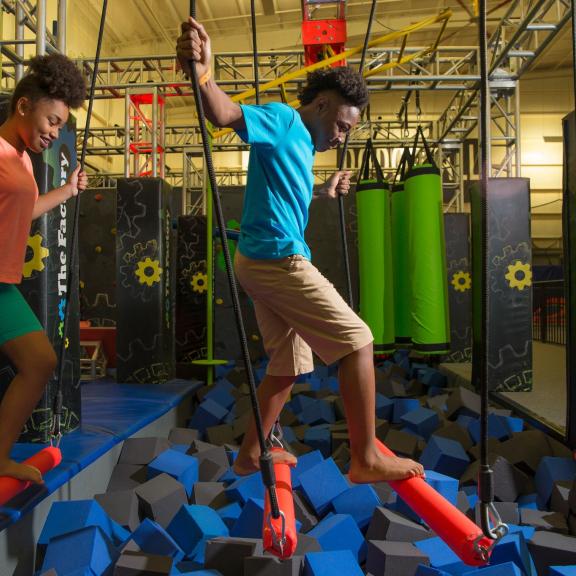 21 Rainy Day Activities
Gulf Shores & Orange Beach
August 16, 2022
A beautiful, sunny day with your toes in the sand is just what you dreamed of when planning your vacation to Alabama's beaches. And then it happens. You get to the beach just in time to welcome rain. No need to worry! There are plenty of exciting indoor activities and attractions to keep you entertained. Here are 21 rainy day things to do to keep the fun going while you're in Gulf Shores and Orange Beach.
Want even more suggestions? Stop by one of our welcome centers for more ideas on how to add some sunshine to your trip.
5. Test your putt-putt skills at Jurassic Golf in Gulf Shores. This blacklight mini golf course is filled with 18 holes of prehistoric fun.
6. Head to Arena the Next Level at The Wharf in Orange Beach to play laser tag and bazooka ball or test your secret spy skills in the laser room. There's also an arcade with dozens of fun games to keep you entertained.
7. Grab your bathing suits and get ready for wet and wild fun at Tropic Falls waterpark. This exciting indoor waterpark is covered by a glass roof, so the rain won't put a damper on your day.
8. Try out the sensational VR games at Outer Limits Game Room and experience a new kind of gaming.
9. Batten down the hatches and play nine holes of pirate glow golf at Adventure Island.
13. Grab a bucket of popcorn and see a movie at the AMC Classic Wharf 15 in Orange Beach or CMX Pinnacle 14 Theatre in Gulf Shores. Catch a matinee to save money with an early showing.
14. Take your next Instagram photos at Cool Shots Selfie Museum at The Wharf. This immersive spot offers over 50 attention-grabbing backdrops, perfect for snapping pictures in front of.
15. The Gulf Coast Arts Alliance in Gulf Shores is home to incredible pieces from over 50 local and regional artists. You'll discover amazing work as you browse the gallery.
19. Step back in time at the Holmes Medical Museum. You'll see antique medical equipment, learn about this small-town hospital above the general store and even get to see some strange medical "oddities" believed to help patients.
20. Go to the library! The Orange Beach Public Library has fun, creative, and relevant weekly kids and teen programming. You can even get a library card and check out books to read during your visit, as local residency is not required!
21. Gulf State Park Nature Center is a living museum of native wildlife and plants and is free to visit. You'll have the chance to get up close to some of the animals who call the park home.
A rainy day at the beach doesn't mean a bad day at the beach! Since you can't change the weather, embrace it. Get out and explore everything there is to do beyond the beach in Gulf Shores and Orange Beach.
Check out all of the fantastic indoor activities on the Alabama Gulf Coast!