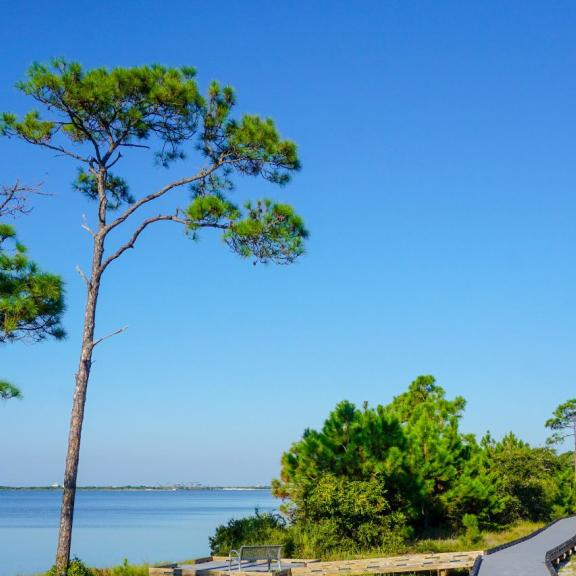 Take a Walk on the Wild Side at the Bon Secour National Wildlife Refuge
This is part one in a series of three blogs on the Bon Secour National Wildlife Refuge in Gulf Shores. 
April 20, 2021
The Alabama Gulf Coast is known for stunning coastal scenes. While our white-sand beaches are our most famous treasure, a much different landscape that's less known but equally important is right in our backyard: the Bon Secour National Wildlife Refuge.
Named for the French word meaning "Safe Harbor," the Bon Secour National Wildlife Refuge encompasses nearly 7,000 acres of undisturbed coastal barrier habitats. Nestled within this protected sanctuary are miles of diverse coastal ecosystems that support a variety of birds, animals, and plants that are unique to our seaside scenes. Visitors to the refuge can travel along four designated hiking trails that explore each habitat, offering prime opportunities for wildlife viewing, birdwatching, photography and more. 
Because you're entering a protected wildlife sanctuary, it's best to be prepared before you go. The four trails vary in length, terrain, and difficulty, and some include areas for protected species you'll want to avoid. So you can prepare to share the space responsibly, here's what to expect from each trail. 
Pine Beach Trail
2.0 miles (one-way)
Difficulty: Moderate - Strenuous
The refuge's most popular hike, Pine Beach Trail takes you on a vibrant journey through an intact dune ecosystem that includes maritime forest, scrub and dune habitats, and a beautiful coastal beach. The shifting landscapes allow a unique variety of seaside plant and animal life, especially where it crosses between Little Lagoon and Gator Lake. After walking a short distance through towering sand dunes, you'll emerge at a sandy beach perfect for a picnic and photo-op before returning the way you came. Although flat and well-packed, the sandy portions of Pine Beach Trail may challenge inexperienced hikers. Sections of the trail near the beach provide a nesting area for sea turtles, the Alabama Beach Mouse, and the Snowy Plover, so be sure to stick to the marked trail and observe all closed area signs. 
Gator Lake Trail
1 mile (one-way)
Difficulty: Moderate
Don't let its short one-mile distance deceive you - the Gator Lake Trail is one of the most diverse and vibrant hikes in the refuge. It begins on the Pine Beach Trail and winds around Gator Lake, journeying through a transitional habitat between maritime forests and the frontal dunes. Trudging through the dunes can be a challenge, and many cross right over the trail path, making this a trail best suited to adventurous hikers. The reward is worth the work, as you'll be treated to stunning waterfront views and the unique bird and animal life that thrive in this transitional landscape.
The Bon Secour National Wildlife Refuge is easily a place you can spend a few hours or a full day. Bring a tote or backpack with water and snacks and enjoy the peaceful surroundings of this hidden gem.