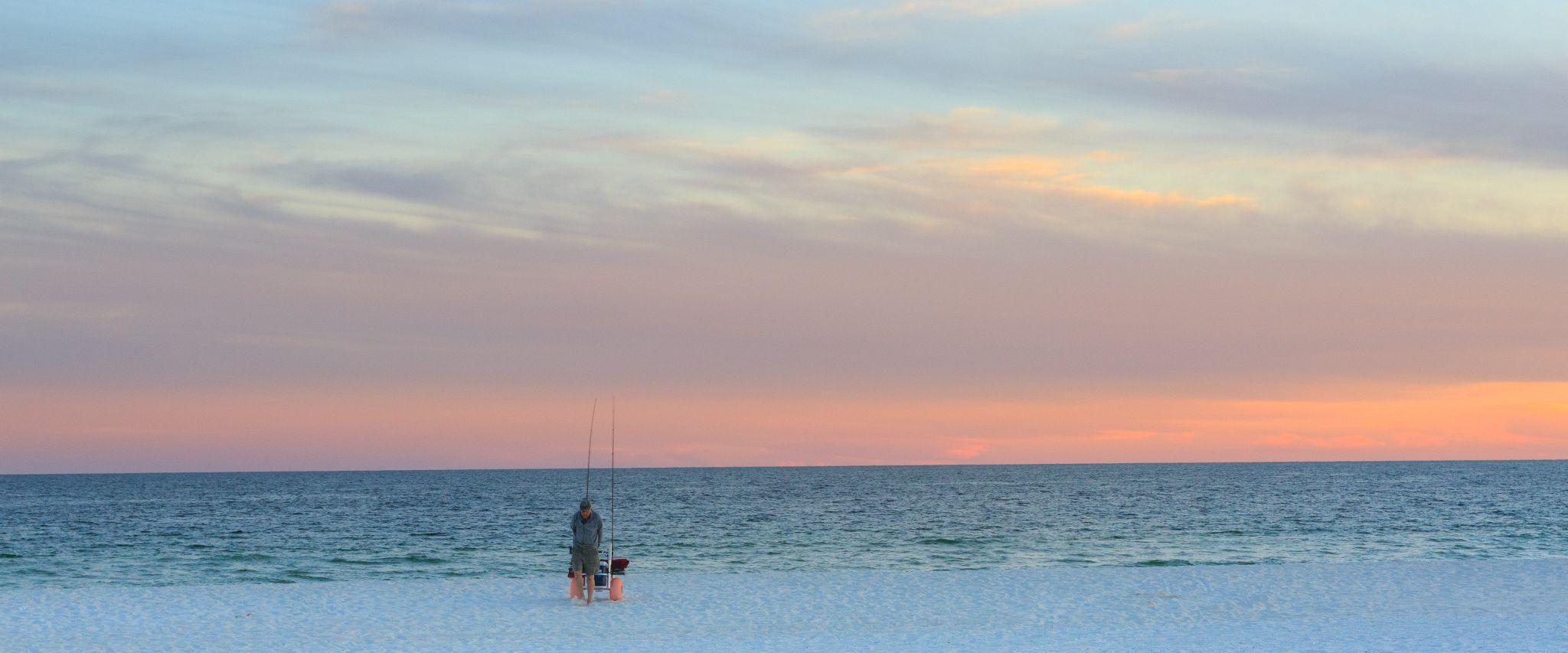 What's Biting: Head for the Surf for Fall Fishing Action
Now that another successful Shrimp Fest is in the books, anglers who love to cast into the surf for any number of fish will have plenty of room to roam the shores in search of whiting, pompano and redfish.
October 17, 2019
With somewhat cooler temperatures, the fish should be more in a biting mood.  The usual spots to find fish are along the sand bars, usually the first one closest to the breaking surf. The water has been particularly clear lately, which makes finding the bar and deep pockets to use as targets easier. When the waves break, it stirs up the bottom, which reveals the delicate morsels that surf fish devour in a flash.
While the water is still warm, use a rake to find sand fleas (mole crabs) at surf's edge. Ghost shrimp can be found now and later in the fall by taking a suction device, either homemade or purchased at the local tackle store, to find the ghost shrimp. Look for little mounds of sand with a tiny vent hole. Take the suction device and slurp up the sand where that mound is located. After several slurps from the extruder, the ejected sand should reveal a ghost shrimp, which looks like a cross between a softshell crawfish and a shrimp.
Visit the local tackle shops in Orange Beach and Gulf Shores to find the sand flea rakes and ghost shrimp extraction devices. If you find a good spot, it only takes about 30 minutes of work with the extruder to get enough ghost shrimp to last for the fishing trip. If you are especially lucky, ghost shrimp can live for a day or two if you use an aerating device in the bait bucket.
If you're unsure of your chances to catch your own bait, just grab a bag of fresh dead shrimp and use chunks of that for bait.
Most surf anglers use a double-hook rig with the lightest pyramid weight that doesn't roll around in the surf and current conditions. Go up in sinker size if it starts rolling around in the surf. A 1/0 hook size is usually best for pompano. If you're after whiting, which rarely exceed two pounds, switch to lighter tackle. A number 4 Kahle hook usually works well. You'll need at least a nine ft. rod with a sensitive tip to get the bait where you need it and the feel to know when smaller fish are biting.
Scouting for the best water clarity and surf conditions pays off by eliminating what we anglers call dead water. Look for clearer water, where the fish can sometimes be spotted swimming in the surf. In the deeper, darker water look for any irregular features in the sandbar that might provide ambush points for the predator fish.
The best fishing is during low-light conditions of early morning and right at dusk, which is the best time to avoid any crowds. Although most of the summertime sunbathers are gone, the Alabama Gulf Coast now attracts visitors all year round.
What's great about surf fishing is you can grab a few PVC rod holders at the tackle shop, cast your baits into the surf and settle back in your beach chair to wait for a bite. Sometimes you get to rest a few minutes between bites. On the good days, the bites will come so fast and furious that you won't have time to sit down.
If you're one who can't sit still, cast your baited rigs out and then grab a seven ft. rod with a pompano jig that you can cast in the surf while you're waiting for a bite. A minnow imitation bait on a quarter-ounce jighead can also be a flounder's downfall in the surf. Add a little strip of Fish Bites for added enticement.
Alabama's length limit on flounder was increased to 14 inches this past August with a daily bag limit of five fish per person. The pompano length limit is also 12 inches, while the daily bag limit is three fish per person. There is no limit on whiting. The redfish limit is three per person with a slot limit of 16 to 26 inches with the exception that one fish larger than 26 inches is allowed. But don't keep a large redfish. It's best to take a photo and return it unharmed to the water.
Don't hesitate to pick up some bait or bait tools and head to Alabama's sugar-sand beaches for a chance to put fish on the stringer that will serve the family dinner table well.