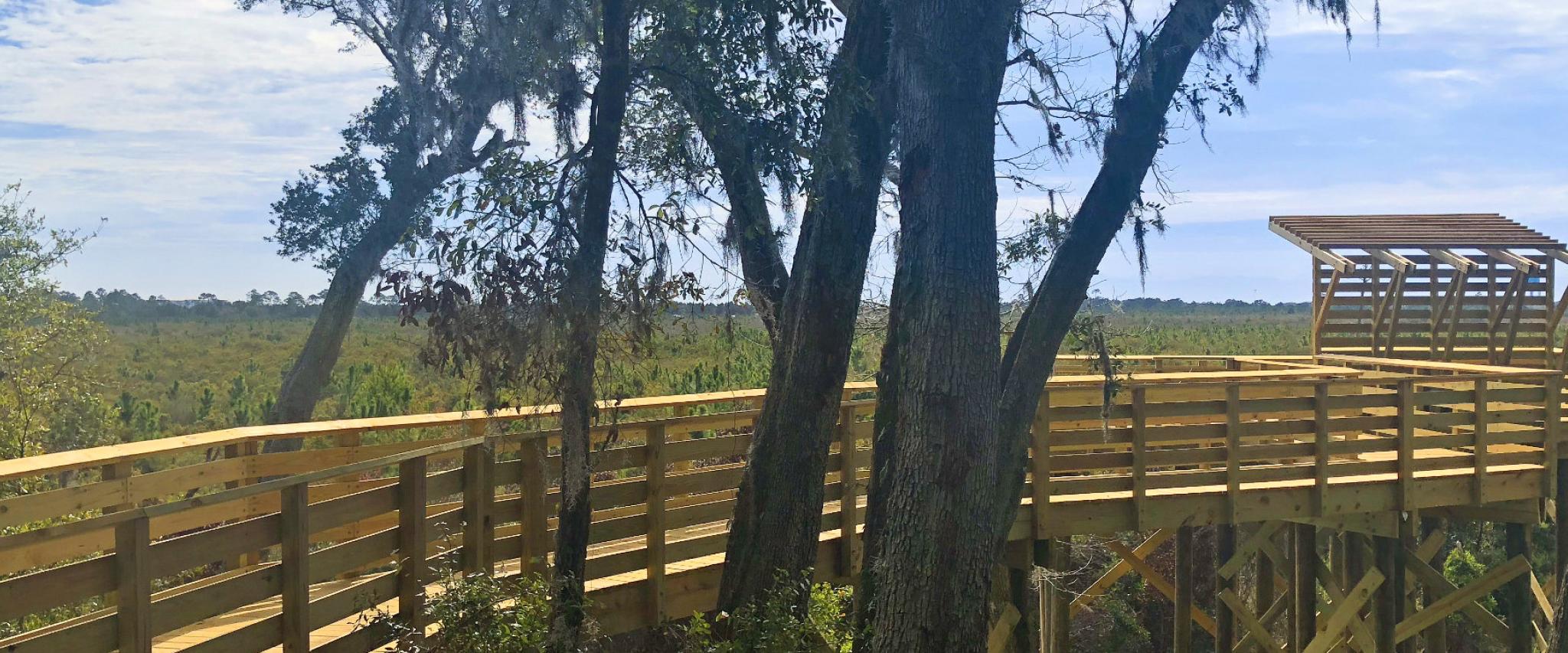 Why We Love the Backcountry Trail (And Why You Will, Too)
The Hugh S. Branyon Backcountry Trail is such an asset to the Gulf Shores and Orange Beach communities.
November 27, 2018
It offers the most innovative of trail systems encompassing numerous ecosystems with more than 27 paved miles of scenic paths. Guests can hike or bike the many trails connecting Gulf Shores and Orange Beach and soak up amazing views of wildlife, including alligators, deer, birds and more.
Trailheads offer direct access to trails, along with restroom facilities and water fountains. No matter if you hike or bike the trails, you'll be impressed with plants, swamps and marshes marked with interpretive signage. Also available are guided tours with more immersion into the area's history and naming of indigenous plant species.
The new boardwalks are a hit with locals and visitors who enjoy heading out for a scenic run or a morning meandering through the pathways. The new boardwalk trails go over Lake Shelby where alligators, turtles and plenty of other wildlife lives and can be viewed.
The Backcountry Trail is home to a beautiful butterfly garden, a favorite spot for all ages to enjoy the fluttering creatures in a variety of colors. The garden is located at the trail system hub (where several trails come together) and is brimming with plants that attract thousands of butterflies annually. Positioned between Butterfly Garden and Boulder Park on Catman Trail is the picnic-perfect pavilion with a screened and enclosed cabin-like building convenient to trail restrooms and water facilities.
The addition of primitive outpost campsites makes camping a fun activity on the trail system. Each of three individual sites – Bonanza, Duke and Alamo – boasts canvas tents that are supported on rustic hardwood floors and are roped together with recycled downed trees. Nylon cots are part of the interior that accommodates four people per site and up to six with the use of an additional tent. A centrally located pump sink helps with cleanup, and Gulf State Park keeps each campsite stocked with firewood. Other available amenities include the park's camp store, swimming pool, bathhouse and bike rentals.
Be sure to add a trip to Hugh S. Branyon Backcountry Trail to your next Gulf Shores or Orange Beach vacation.