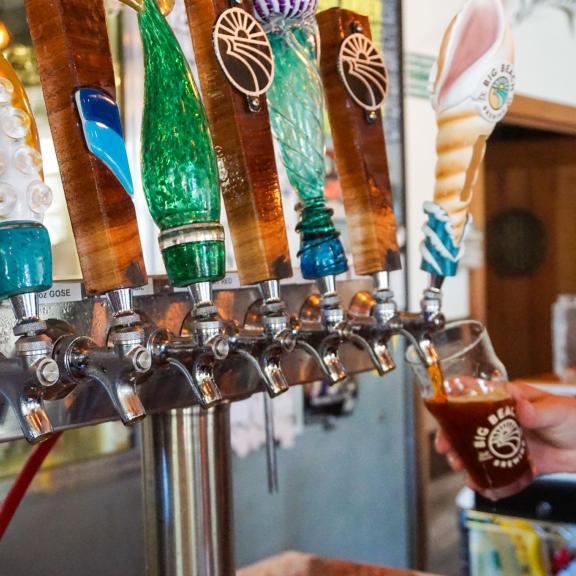 118 miles round trip
Explore the Coastal Alabama Scenic Byway on this run. Starting at the Gulf Shores Welcome Center, riders will travel the winding road along Mobile Bay to Fort Morgan, hop on the Mobile Bay Ferry and travel throughout Mobile, the Eastern Shore and land back at Big Beach Brewing Company in Gulf Shores. This route blends history and nature with delicious food and local craft beer. Please drink responsibly.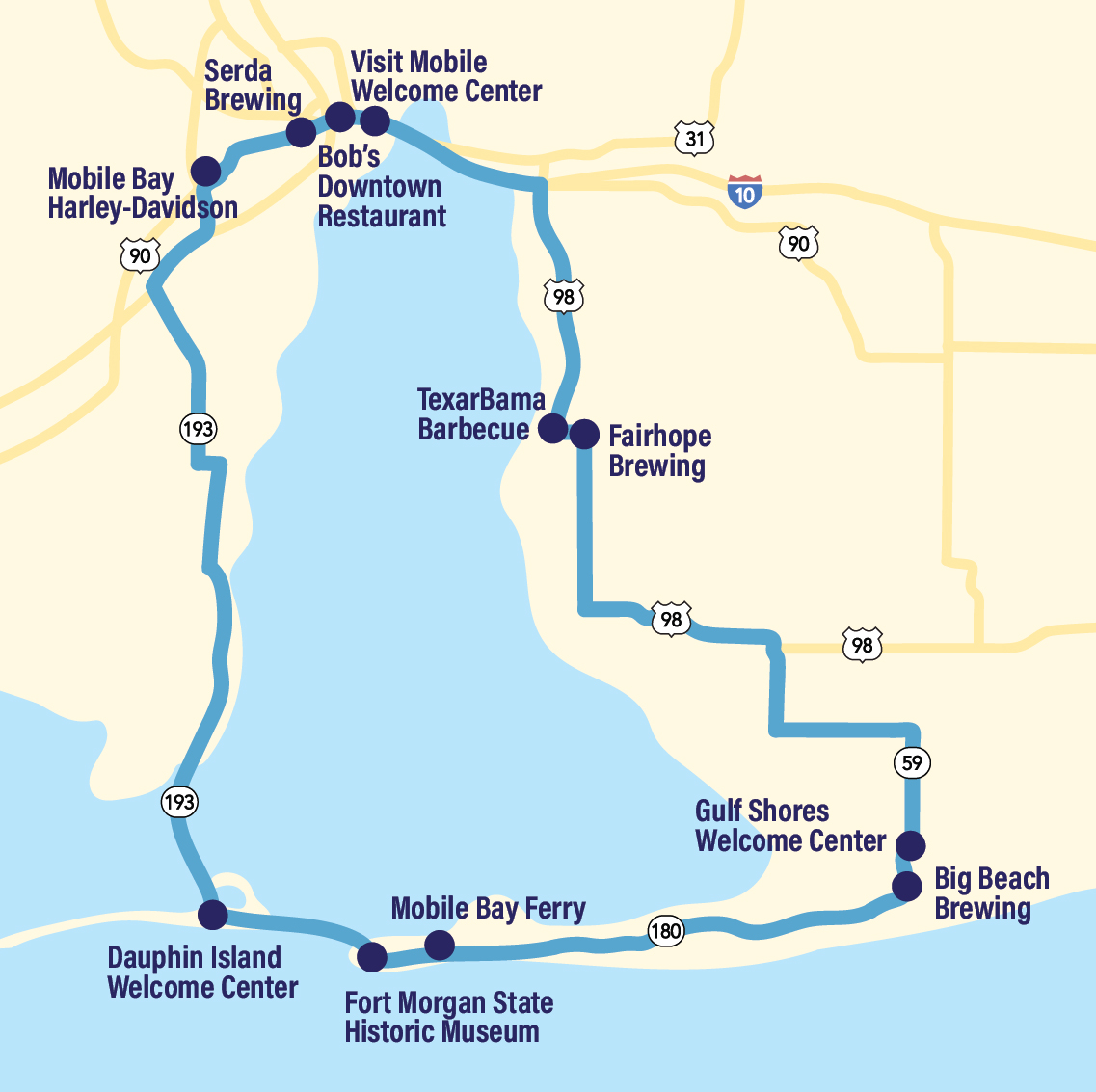 Gulf Shores Welcome Center
3456 Gulf Shores Pkwy.
800-745-7263 (SAND)
Start off at our Gulf Shores Welcome Center where vacation specialists can assist with making the most of your trip to the coast. The Welcome Center is open daily.
Fort Morgan State Historic Site
51 AL-180, Gulf Shores
251-540-5257
What was once the battleground for one of the most historical battles in the Civil War, the Battle of Mobile Bay, Fort Morgan now stands as a memorial and museum showcasing the evolutions of seacoast forts.
Mobile Bay Ferry
110 AL-180, Gulf Shores
251-861-3000
Rates subject to change by season; refer to ferry website
The ferry takes passengers across Mobile Bay on the "Gulf Coast's most scenic drive." Starting at Fort Morgan in Gulf Shores, hop aboard the ferry for a 40-minute ride that docks at Fort Gaines in Dauphin Island. Please refer to the ferry website for departure times and fees.
Town of Dauphin Island Welcome Center
1016 Bienville Blvd.
251-861-5524
Known as the "Sunset Capital of Alabama," Dauphin Island is a quaint beach town with a variety of attractions including Fort Gaines and The Estuarium at Dauphin Island Sea Lab as well as seafood shacks and public beach access. This is the best place to stop-in and learn about all the things to see and do in the area. Call for hours.
Mobile Bay Harley-Davidson
3260 Pleasant Valley Rd., Mobile
251-444-5646
Stop in to purchase a t-shirt or a few poker chips to commemorate your ride along the Gulf Coast.
Serda Brewing
600 Government St., Mobile
251-929-9349
Pub-style taproom offering traditional German-style brews with an American craft beer flair
Bob's Downtown Restaurant
263 St. Francis St., Mobile
251-405-1497
Located in the heart of downtown Mobile, Bob's is a locally owned establishment serving up hearty breakfast and lunch in an old-school diner. 
Visit Mobile Welcome Center    
111 S. Royal St.
251-208-7304
Once called the Paris of the South, Mobile celebrates its 300 years of vibrant history through its culture, cuisine and art. Stop by the welcome center for information about places to go and things to do, then take a drive down picturesque Dauphin Street to see the sites of downtown Mobile.
TexarBama Barbecue
212 ½ Fairhope Ave., Fairhope
251-270-7250
When an Austin native and a Fairhopian come together you get TexarBama BBQ. Combining the flavors of both Texas and Alabama BBQ, they create a delicious medley in every bite.
Fairhope Brewing Company
914 Nichols Ave., Fairhope
251-29-7517
Lower Alabama's first brewery opened their doors in 2013 with just two beers on tap. Today, they keep 14 beers and a cider available at all times and feature local and regional musicians in the taproom year-round. 
Big Beach Brewing Company
300 E. 24th Ave., Gulf Shores
251-948-2337
Located in Waterway Village and boasting a beautiful open-air taproom complete with a fireplace, comfortable seating and a wonderful view of the Intercoastal Waterway, Big Beach has 12 beers on tap at any given time.